Mango and me (as the GCC Viking Mascot), circa 1999
Last Sunday afternoon, the ambulance was called and Mango was taken to the ER after chest pains and a fainting spell. At 88 years old (with past episodes of a similar nature) this is to be expected. However, it's always scary to get that phone call… and not a good feeling knowing that you're a few hundred miles away and can't do a damn thing to help. So, as soon as I put down the phone, I went to the kitchen. Baking transports me to my happy place, and the methodical plan of a recipe calms me… especially since I bake in Mango's former kitchen. After all, I was the one who named this amazing lady "Mango" (the name she's known by to all who come in contact with her).
I knew we'd be making the drive to Fort Worth to visit her in CICU as soon as possible, so with the knowledge that she loves anything involving pecans, I adapted this cookie recipe from Martha Stewart. They were quick to bake up and made for a perfect treat to withstand the drive. I'm still not sure if she was more excited to see Mom and me, or the cookies… 🙂
Chocolate & Cinnamon Pecan Cookies
Ingredients
1 c all-purpose flour
1/2 tsp baking soda
1/2 tsp Kosher salt
1/2 tsp ground cinnamon
6 tbsp unsalted butter, at room temperature
1/4 c smooth peanut butter
1/2 c light-brown sugar, packed
1/4 c granulated sugar
1 lg egg
1 tsp pure vanilla extract
1-1/2 c dark chocolate chips
1/3 c pecans, coarsely chopped
Instructions
Preheat oven to 350 degrees F. Whisk together the flour, baking soda, salt and cinnamon in a medium bowl. Put butter and peanut butter in the bowl of an electric mixer (fitted with the paddle attachment), then mix on medium speed until combined, about 2 minutes. Add sugars and mix for another 2 minutes. Then, mix in the egg and vanilla.
Gradually add flour mixture and mix until just combined. Fold in chocolate chips and pecans with a rubber spatula until well distributed. Refrigerate dough until it is slightly firm, about 15 minutes. Roll dough into 1-inch balls. Space balls 2 to 3 inches apart on baking sheets lined with parchment paper and flatten slightly. Bake until just golden, about 13 minutes. Transfer cookies to wire racks to cool completely.
http://mybakingheart.com/2011/10/12/chocolate-cinnamon-pecan-cookies/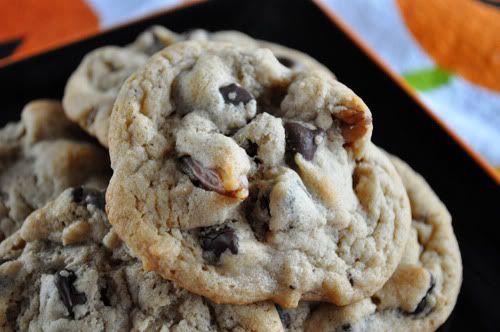 After several days in CICU, scary moments when her blood pressure dipped dangerously low and doctors playing with the levels on a number of different medications, Mango's been moved to a regular room and can go home soon. She'll need extra care afterwards, of course, but we're just happy that she's coming home!!