My favorite holiday, which comes in a very close second to Christmas, is Halloween. So, imagine how excited I was when Casey at Kitchen Play invited me to participate in their November 2011 SideCar Series… featuring none other than Kid-Friendly Halloween treats! Sponsored by McCormick®, this series focuses on bringing families together, while baking and creatively decorating tiny treats that little hands can hold on to. As a participant this go-round, McCormick® sent me several bottles of their Pure Vanilla Extract and Food Coloring, including Black, in order to create a fun, but creepy, recipe!
I had found these spiderweb cupcake wraps before the project began, so when the assignment dropped into my inbox, I immediately knew what I would create. Using McCormick's® suggestion of a red velvet boxed cake mix & can of cream cheese frosting, I baked the cupcakes by adapting the recipes of two tried & true favorites: Joy the Baker's Red Velvet Cookie Sandwiches and my grandmother's Cream Cheese Frosting. I then made the spiders' bodies from chocolate sandwich cookies, their eyes with a dot of cream cheese frosting & black decorating gel and the legs from several strands of black licorice.
If you're looking for fun ideas to get your kiddos involved, why not host a Halloween cookie swap or have a cupcake decorating party? We'll be carving pumpkins and swapping cookies with friends on the big day… or in my case, these creepy, crawly Spider Cupcakes, as I will definitely be making them again!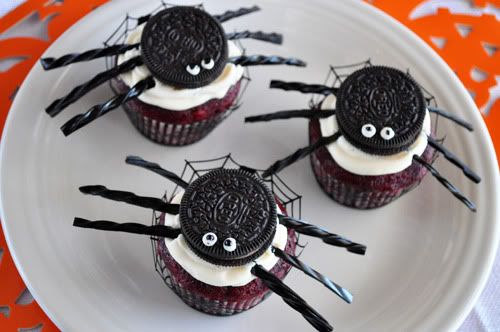 Blood-Red Spooky Spider Cupcakes
Adapted from: Joy the Baker's Red Velvet Cookie Sandwiches & Mango's Cream Cheese Frosting
Yields: 24 cupcakes
2-1/2 c all purpose flour
1 tbsp cocoa powder
1 tsp Kosher salt
1 tsp baking soda
5 tbsp unsalted butter, at room temperature
2 c granulated sugar
2 lg eggs
2 tbsp McCormick red food coloring
1 tsp McCormick pure vanilla extract
1 c low-fat buttermilk
Cream Cheese Frosting (recipe below)
24 Chocolate Sandwich Cookies
Black Decorating Gel
144 (3-inch) pieces Black Licorice
Preheat oven to 350 degrees F. Line two muffin tins with liners and set aside. In a medium bowl, sift together flour, cocoa, Kosher salt and baking soda.
Using a mixer, beat butter with the granulated sugar until fluffy, about 3 minutes. Beat in the eggs, food coloring and vanilla. Beat in the flour mixture alternately with the buttermilk until smooth.
Pour batter evenly into cupcake liners, then bake until a toothpick inserted in the center comes out dry, 18 to 20 minutes (depending on your oven). Remove the cupcakes and cool completely on a wire rack. While the cupcakes are cooling, make the frosting.
~~~
Cream Cheese Frosting
2 (8 oz) pkgs cream cheese, softened
8 tbsp unsalted butter, softened
1 (16 oz) box Confectioners' sugar
1 tsp McCormick pure vanilla extract
Beat cream cheese and butter together until smooth. Add powdered sugar and mix well. Add vanilla and beat until smooth. Spread or pipe onto cupcakes, then top each one with a chocolate sandwich cookie.
Using a sandwich bag, snip a tiny corner off (or fit with a coupler and round tip) and fill the bag with a bit of cream cheese frosting. Pipe two dots onto the edge of each chocolate sandwich cookie for the eyes. Next, with the black decorating gel, pipe two smaller black dots onto the white dots for the pupils. For the legs, cut licorice in 3″ pieces, then stick three 'legs' into the frosting underneath both sides of the cookie.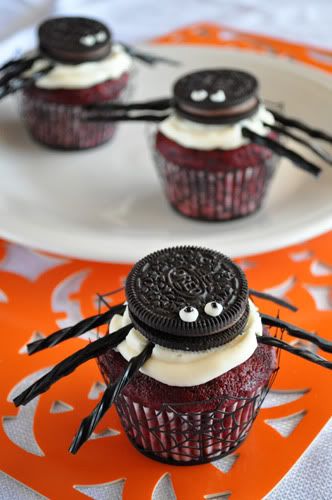 McCormick is also sponsoring a wonderful giveaway at Kitchen PLAY. Simply recreate any one recipe from this month's SideCar Series, post about the experience on your blog and provide a link to your post on Kitchen PLAY to enter. All qualifying bloggers in each course will be entered to win $50 (10 prizes total). The deadline is October 31, 2011. Please review the complete contest rules before entering. Good luck!
Disclaimer: Kitchen Play connects food bloggers and PR professionals through sponsored events such as the Progressive Party, SideCar Series, Pampered Pantry and more. Kitchen Play is always looking for more food bloggers to join the fun – if you're interested, contact Casey today!