Last night, Momma G and I enjoyed a Girls-Night-Out at the fabulous boutique, T-Hee Greetings & Gifts on Mockingbird Ln. We were among some of the hottest Dallas bloggers invited to an open house and get-together, complete with shopping, wine and snacks. Once inside, I was a kid in a candy store… I wanted one of everything! However, I don't have quite the budget (or the trunk space) for it all, so I picked out five of my favorite things to share with you:
I absolutely fell in love with their college section… especially with all of the TCU items (naturally)! Since our Rose Bowl win this past January, we've become a bit more popular, but purple & white branded items are still hard to come by. So, I latched on to this mini-pin and didn't look back.
Next were the notepads and cards. I'm a big believer in sending handwritten notes, so I always have a cute notecard or two with me in case I need to send a 'thank you'. The 'Texas Girls Rock' notepad and Sigma Kappa notecards were too precious not to add to my collection.
And something that I've been dying to own for the past couple of years is a cut-out monogramed pendant or bracelet. They're so beautiful, but I just haven't dived off that board yet… I think subconsciously, I'm waiting until I have a married name to add to my monogram. 🙂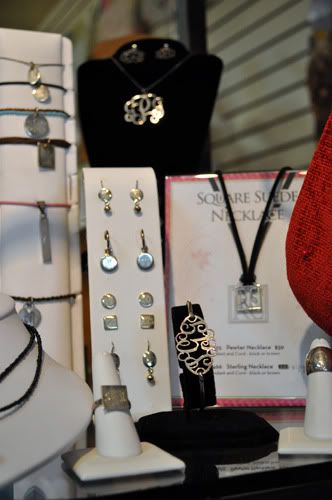 The pièce de résistance was the Halloween display at the entrance to the store. October 31 is such a favorite holiday of mine and I just love decorating the house with all kinds of spooky things. Their invitations, cups, plates, napkins, cupcake toppers, platters, stickers, etc. were all so creepy that I wanted to host a party for every day of the month!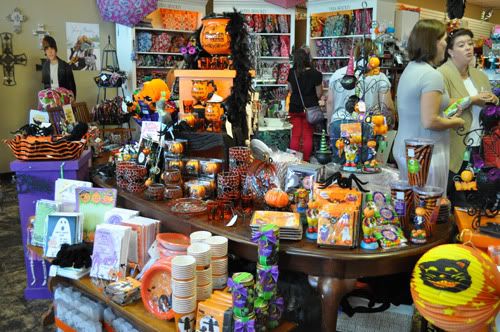 What I did grab off their amazing table was this charming little guy who jumped right out at me. Since "Boo" is a childhood nickname of mine, I collect all things ghost, so I just had to have him. And since he was on sale, it was fate!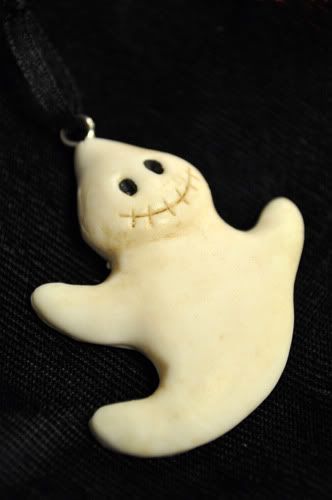 Many thanks to Holly of June Cleaver Nirvana for the invitation and to the gracious staff at T-Hee for hosting such a wonderful party. If you're in need of gifts for loved ones (or yourself!), this is the place to go… and also check out their Facebook page for specials and new item announcements! 🙂

p.s. Tune in tomorrow for a special Halloween treat!