The Cadillac Culinary Challenge, presented by Cadillac, bon appétit, epicurious and Share Our Strength was held this past weekend in Plano at The Shops at Willowbend. This was the third stop on a whirlwind tour where two talented and renowned chefs are thrown into a regional competition. Once that's complete, it's time to test-drive Cadillac's award-winning line-up.
This challenge pitted Chef Marcus Samuelsson of Red Rooster Harlem (as well as a 'Chopped' judge and 'Top Chef Masters' Season 2 champ!) against Dallas' hometown favorite, Chef Bruno Davaillon of Rosewood Mansion on Turtle Creek. Chef Samuelsson served BBQ Braised Short Ribs, while Chef Davaillon whipped up Grilled Bandera Quail with Barbecue Bacon Glaze, Black Mission Figs and Creamy Grits. I don't have to tell you that the winner was our own Chef Davaillon – he understands Texas Barbecue, so the quail was spot on. It was an honor, however, to have tasted Chef Samuelsson's short ribs. It didn't have quite that quintessential barbecue flavor we know (and love) around here, but it was amazing in its own right.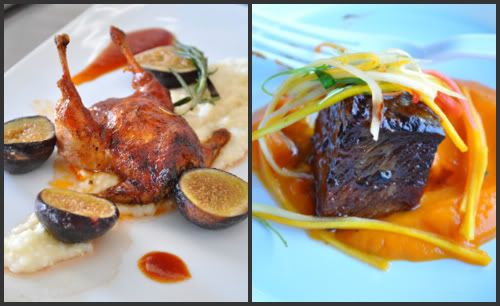 C even came along for the ride (pun intended) where he guest judged alongside me… right before we began test-driving CTS', Escalade Hybrids and competition vehicles such as the BMW X5 and the Lexus GS.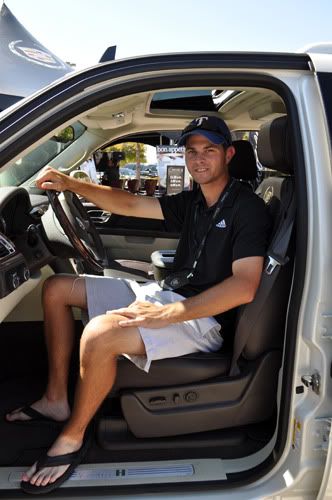 It was a lovely event and I'm so flattered that Cadillac asked me to guest judge. If you're close to any of the following stops, I highly suggest attending the Challenge!
San Jose, CA – October 8-9
Irvine, CA – October 15-16
Glendale, CA – October 22-23
Atlanta, GA – November 5-6
Fort Lauderdale, FL – November 12-13
To pre-register for this free event, visit http://www.cadillacchallenge.com/.