September 12: Momma G's birthday. When I was younger, we would always march next door to Mango's house for dinner. She'd serve several courses (all chosen by Momma, of course), which included her famous Italian Cream Cake as dessert.
I'm not a big fan of shredded coconut, but I know that Momma absolutely loves this cake. And since Mango is a few hundred miles away, I decided to bring back the tradition and put this cake together for her this past Monday night. We shared it with family and good friends after a (fitting) Italian pasta dinner.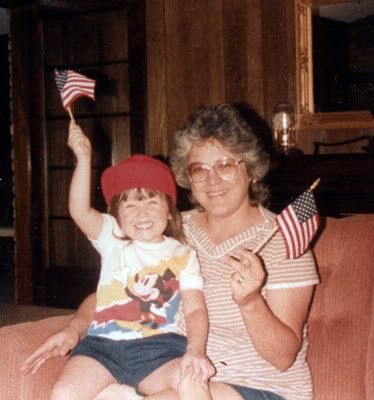 Momma & Me, circa 1986
If I had a say in who my mom would turn out to be, I couldn't have chosen a more perfect person. You are everything and more to me… my best friend, my partner-in-crime and quite possibly, my soul mate. Happy Birthday, Momma – I love you more than you'll ever know!!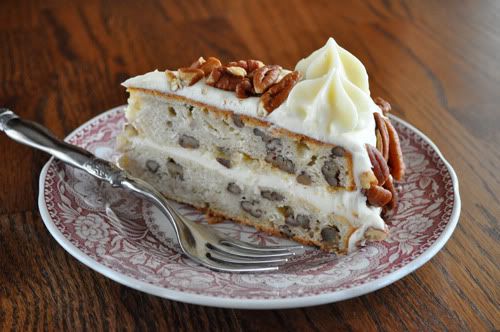 Mango's Italian Cream Cake & Cream Cheese Frosting
Source: My paternal grandmother, Edna Marie (aka Mango)
8 tbsp unsalted butter, softened
1/2 c shortening
2 c sugar
5 egg yolks
2 c all-purpose flour
1 tsp baking soda
1 c buttermilk
1 tsp pure vanilla extract
1 (3-1/2 oz) can Angel Flake coconut
2 c chopped pecans, divided
5 egg whites, stiffly beaten
Cream Cheese Frosting (recipe below)
Preheat oven to 350 degrees F. Cream the butter and shortening. Add sugar and beat until mixture is smooth. Add egg yolks and beat well. Combine flour and soda, then add to creamed mixture alternately with the buttermilk. Stir in the vanilla extract, then add the coconut and 1 cup of the chopped pecans. Carefully fold in the beaten egg whites.
Pour batter into three greased and floured 8″ cake pans or two 9″ cake pans. Bake for 25 minutes or until cake tests done. Cool completely, then frost with cream cheese frosting.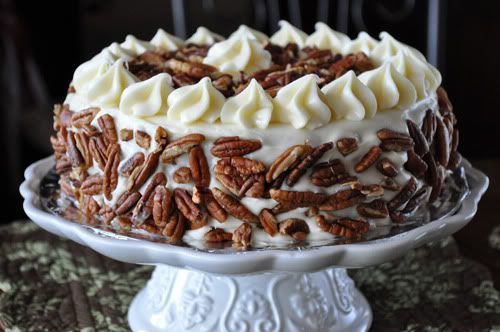 Cream Cheese Frosting
2 (8 oz) pkg cream cheese, at room temperature
8 tbsp unsalted butter, at room temperature
1-1/2 tsp pure vanilla extract
1 (16 oz) box Confectioners' sugar
In the bowl of an electric mixer fitted with the paddle attachment, cream together the cream cheese, butter and vanilla extract on low speed. Add the confectioners' sugar and mix until smooth. Spread between layers, on top and sides of cake. Sprinkle top with remaining cup of pecans and serve.