Oh, Dorie. You know just how to pull on my heartstrings. Cream, cheese, garlic AND rice? Sounds like a bowl full of heaven.
This dish is incredible. It's fresher, tastier and better for you than those sides from a box or a pouch – the extra minutes it takes to prepare are totally worth it, too. Tight on time? Just prep the spinach two to three days before, pull it out of the refrigerator right before you need to add it in and you're good to go! Serving this along with next week's Cinnamon-Crunch Chicken and a salad made for a breezy little dinner al-fresco with C and my parents. So nice, that I think I've gotten a little spoiled with this past week's low temps… I just hope it continues and all of this gorgeous weather hasn't been a fluke! 🙂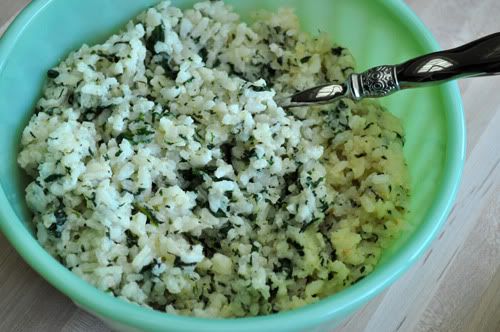 To see who else participated this week, hop on over to the 'Leave-Your-Link' post on French Fridays With Dorie… and if you still haven't put this book in your library, you're missing out! Not only is it filled with great weeknight meals and fancy dinner party courses, but the baked goods rank right up there with the ones from Dorie's 'Baking' book!
#51 – Creamy, Cheesy, Garlicky Rice with Spinach (pg. 380-381)
Source: Around My French Table by Dorie Greenspan