Three and a half years ago, after a little prodding from my friend Amy, I joined Tuesdays With Dorie. And after a two year wait, I made my first recipe choice… the Parisian Apple Tartlet. Now, I'm lucky enough to choose for a second time.
Since there are just a handful of recipes left in 'Baking', it was hard to find one that the group hadn't yet made. I flipped through several sections before I finally landed on these sweet little log cookies. I immediately made my choice and set to baking. The finished product isn't as spicy as the name suggests, so if you're looking for a little warmth, I'd add in another 1/2 teaspoon or two of allspice, cloves, cinnamon or nutmeg. Otherwise, they're a sweet little treat for showers, teas and even your child's lunch box! The recipe's listed below and if you'd like to see who baked along with me this week, click over to the 'Leave-Your-Link' page!
Chocolate Spice Quickies (pg. 140)
Source: Baking – From My Home to Yours by Dorie Greenspan
1-1/2 c all-purpose flour
1/2 c blanched almonds (whole, sliced or slivered)
3 tbsp unsweetened cocoa powder
1/2 tsp baking powder
1/8 tsp ground allspice or cloves
Pinch of salt
3/4 c sugar
1 stick (8 tbsp) unsalted butter, at room temperature
1/2 tsp pure vanilla extract
1 lg egg
2 oz bittersweet chocolate, melted and cooled
Put the flour, almonds, cocoa, baking powder, spice and salt in a food processor and pulse, scraping down the sides of the bowl as necessary, until the almonds are finely ground. Turn the ingredients out onto a sheet of wax paper.
Put the sugar and the butter into the processor and whir for a minute, then scrape the bowl and process for another 15 seconds; the butter and sugar should be smoothly blended. Add the vanilla and egg and process for 30 seconds, the scrape and process for another 30 seconds. Add the chocolate and pulse to blend. Finally, add the dry ingredients and pulse until they are fully incorporated. You'll have a soft, fudgy, very malleable dough. Scrape it out onto a work surface.
Divide the dough in half and roll each piece into a log 7 to 8 inches long and 1 inch in diameter. Once the logs are formed, wrap them in plastic wrap, twisting the ends of the plastic firecracker-style to tighten the rolls. Refrigerate for at least 4 hours. (The logs can be wrapped airtight and refrigerated for up to 4 days or kept frozen for up to 2 months; slice and bake the frozen logs without defrosting – just add a minute or two to the baking time.)
Getting ready to bake: Center a rack in the oven and preheat the oven to 375 degrees F. Line two baking sheets with parchment or silicone mats.
Using a thin knife, cut the logs into 1/3-inch-thick rounds and place the rounds on the baking sheets, leaving at 1 inch between rounds.
Bake the cookies one sheet at a time for 7 minutes, or until the cookies are slightly puffed and their tops look dry. Transfer the sheet to a rack and wait 1 minute before carefully lifting the still-fragile cookies onto a rack to cool to room temperature.
Storing: The cookies can be kept in a tin for about 4 days.
~~~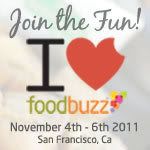 I have really, really exciting news to share! As a result of the 'Foodbuzz/Yahoo! Support Share our Strength Program' posts that I made these past few months, I've won a trip to the 2011 Foodbuzz Blogger Festival!! So, this lucky Brand Ambassador? She's headed to San Francisco in November!!
I cannot wait to experience the festival, meet some fabulous bloggers and taste that incredible food!! If you're headed that way, too, let me know – I'd love to meet you! 🙂