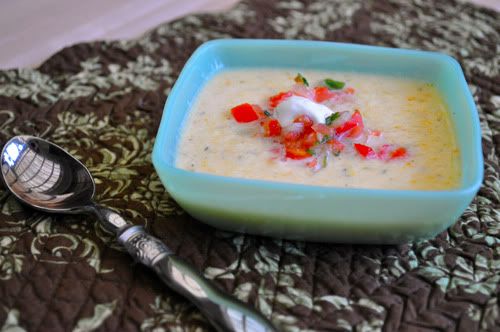 It's a glorious day in TCU-land… C & I are headed South to watch the Frogs stomp the Baylor Bears at tonight's season opener and I cannot wait to get on the road! The car is full of gas, everything in sight is a gorgeous shade of purple (from my violet bag to my fingers & toes), I can hear the Fight Song playing softly in the distance and my belly is full of this silky and smooth Corn Soup.
It's super easy to whip up and even tastier to devour. I made a huge batch and shared it at work with six special people (with leftovers for today's lunch!). We poured it over Hatch Tortilla Chips from Central Market, then topped it with a chunky pico and cool sour cream. This was a wonderful dish to celebrate the end of Summer… even though it continues to hover around 100 degrees every day. Fall?? Please say you're hiding around the corner!!
To see who else participated in this week's French Fridays With Dorie, check out the 'Leave-Your-Link' page!
#50 – Corn Soup (pg. 60-61)
Source: Around My French Table by Dorie Greenspan
GO Frogs! 😉