A dessert with bite. That's what I'm entering into the 'Holmes Sweet Holmes' Recipe Challenge. My 'Bacon-Jalapeño-Peach Cupcakes' are quintessentially Texan and would fit in perfectly at a backyard BBQ, don't you think? They're filled with crispy smoked bacon, sweet Lone Star peaches and a spicy kick from the jalapeños.
"Holmes Smokehouse is challenging two of Texas' biggest and hungriest cities – Dallas and Houston – to see whose recipes reign supreme… keeping an eye out for original recipes that are creative and flavorful, and feature one of their several products. Submissions can be made in one of four competition categories: Appetizers, Entrées, Bacon!, and Daring Desserts – for a chance to win a Texas-sized prize package fit for a culinary king or queen. The grand prize? A year's worth of Holmes Smokehouse products, a new grill from Texas Original Pits, and packages from The International Culinary Schools at Art Institutes, The Food and Wine Foundation of Texas, Canyon Foods, and Cinco Vodka… plus, the first ever at-home visit from the Smokehouse Express, Holmes' mobile smokehouse, to help throw the ultimate backyard cook out!"
So grab that ice-cold glass of milk, kick back and dig in to one of these hot little cupcakes!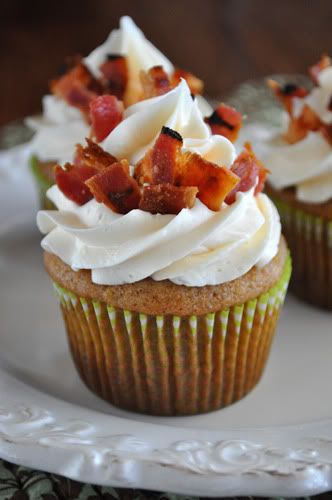 Bacon-Jalapeño-Peach Cupcakes with Spicy Cream Cheese Frosting
Source: A 'My Baking Heart' original
Yields: 18-20 cupcakes
1-1/2 c cake flour
1/2 tsp Kosher salt
1/2 tsp baking soda
1-1/4 tsp baking powder
1 tsp ground cinnamon
2 lg eggs
3/4 c sugar
2/3 c jalapeño-peach preserves
1 1/2 teaspoons pure vanilla extract
1/2 c vegetable oil
1/2 c skim milk
2 lg fresh peaches, peeled, cored, and diced
4 slices Holmes Smokehouse-brand Hickory Smoked bacon, cooked and chopped + extra for garnish
Preheat the oven to 350 degrees F. Line 2 muffin tins with paper liners. In a large bowl, whisk together the flour, salt, baking soda, baking powder and ground cinnamon. Set aside. In a stand mixer, using the paddle attachment, beat eggs, sugar, jalapeño-peach preserves, vanilla extract and vegetable oil together.
Turn the mixer to low speed and alternate the dry ingredients and milk until fully combined. With a spatula, gently fold in the diced peaches and chopped bacon. Divide the batter among the prepared cupcake liners, filling them almost full, and bake for 16-18 minutes, until a toothpick inserted into the center comes out clean. Cool cupcakes in the tin for 5 minutes, then remove to a wire rack to cool completely before frosting.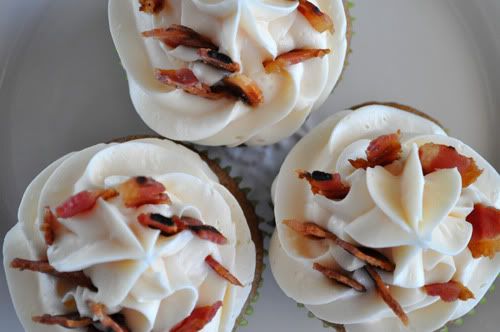 Spicy Cream Cheese Frosting
2 (8 oz) pkgs cream cheese, softened slightly and cut into small pieces
8 tbsp unsalted butter, softened slightly and cut into small pieces
1-1/2 tsp pure vanilla extract
5-6 c Confectioners' sugar, sifted
1/2 c jalapeño-peach preserves
In a medium-size bowl, on the medium speed of an electric mixer, beat the cream cheese and the butter until smooth, about 3 minutes. Add the vanilla extract. Add 3 cups of the powdered sugar and slowly beat until incorporated. Add the jalapeño-peach preserves, a tablespoon at a time, until the icing has reached the desired flavor. Add more Confectioners' sugar and continue to beat until the icing is thick enough to pipe on the cupcakes.
~~~
Want to enter the contest, too? The first four Dallas or Houston readers who comment will receive a coupon for a FREE package of Holmes Smokehouse's Pecan Smoked Sausage to create their own yummy recipe for the challenge!! Check the Holmes Smokehouse Blog for all of the rules and details – good luck and I can't wait to see what everyone comes up with! 🙂
p.s. I've been assured that the contest has been extended into September, so please disregard the August 22 deadline date that's listed!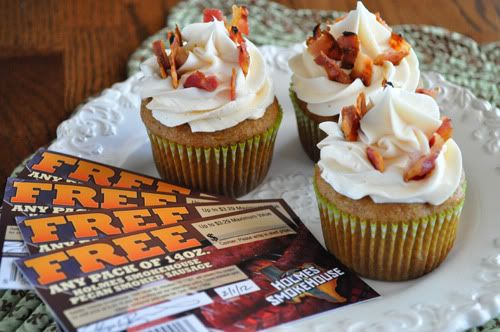 ETA: On January 10, Holmes Smokehouse announced that Dallas knows their bacon… along with the bragging rights, I won a gift basket courtesy of the Wine & Food Foundation of Texas!! Lots of fun goodies and a 'Wine Bible' to top it all off! 🙂