I know how excited I get before I'm about to bake bread. It's one of my favorite indulgences and I miss it terribly (way more than I miss those thirty extra pounds I've lost). But what I didn't remember about baking brioche, is the incredibly long rising times the recipe calls for. It's been over three years since I last made it (using the dough for Dorie's Pecan Honey Sticky Buns), so I'd forgotten how agonizing it is to wait for this lovely bread to bake up.
My loaves didn't rise like they should have this time around, but what they lacked in height, they made up for in taste… an absolute buttery taste. Momma G compared the flavor to croissants, so maybe that's a sign I'll perfect #3 on my 30-Before-30 list. Sounds good, right? 🙂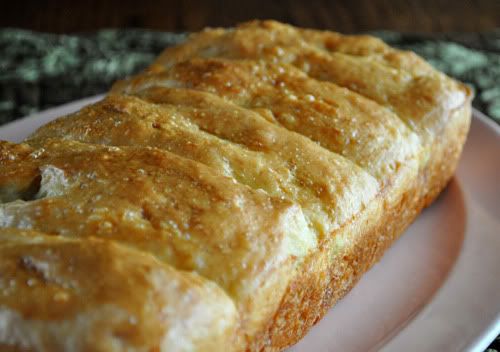 Margie of Tea and Scones is this week's sweet hostess. Visit her blog to get a copy of the recipe and to see a list of this week's TWD participants, head over to the 'Leave-Your-Link' post!
Golden Brioche Loaves (pgs. 48-50)
Source: Baking – From My Home to Yours by Dorie Greenspan