Even if there might be a few hard feelings leftover from a previous relationship, I do have one thing to thank J for. Being a full-blooded Greek, he introduced me to some of the greatest food I've ever eaten… and in a small suburb of Fort Worth, no less. I remember trips to the Greek restaurants outside of Sundance Square and downtown Chicago, the gyros and dolmades at his church's yearly festival and the dinners I helped his mom to prepare. Including a very special Easter service and dinner that I photographed for one of my last journalism classes at TCU.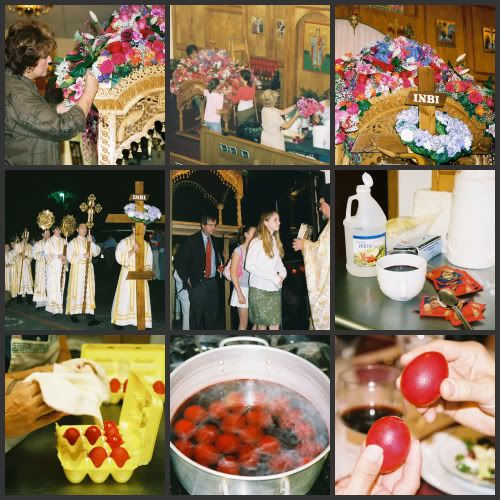 So, when I received my coupon for Sabra-brand hummus and the assignment* to create a recipe for Foodbuzz, I knew that it was time for a little taste of Greece. The dip's colors are bright and the taste, a bit tart with that hint of lemon. It's fresh, healthy and a perfect party food… great for cocktails, showers, and that ever-important tailgate. I haven't been to Greece (yet), but if and when I make it there, this is what I'd imagine it tastes like. As for J? I wish him nothing but the best… hard feelings and all.
Ingredients
3/4 c roasted grape tomatoes, chopped
1 c fresh baby spinach, chopped
3 tbsp fresh lemon juice
2 tbsp extra-virgin olive oil
2 tbsp fresh basil leaves, chopped
1 tbsp fresh mint leaves, chopped
1/2 c feta cheese, crumbled
1/2 c ripe black olives, chopped
1/4 c red onion, chopped
Instructions
Spread hummus into a 9-in. pie plate and top with the roasted tomatoes. In a small bowl, combine the spinach, lemon juice, oil, basil and mint. Using tongs or a slotted spoon, top tomatoes with the spinach mixture. Sprinkle on the feta, then add the olives and onion. Serve with fresh veggies or crunchy pita chips and enjoy!
http://mybakingheart.com/2011/08/19/greek-isles-dip/
*Fun news! Foodbuzz is serving Sabra at the Friday Night Cocktail Party, during their annual Festival this November. But there's a twist! Because of Sabra's extraordinary ingredients, they're featuring and serving the original recipe of one lucky Tastemaker! And guess what? If I'm that lucky winner, I'll spend the weekend in San Fransisco for the Festival… travel & accommodations courtesy of Foodbuzz!! How awesome is that?!

Disclaimer: As part of the Foodbuzz Tastemaker and 'Sabra Featured Recipe' Programs, I received a free carton of Sabra Hummus in order to create this recipe.