What a way to end Summer and (begin to) welcome Fall. We had a break in the heat last week, complete with rain and super-cool weather… so cool, in fact, that I wanted to dig out my jeans and sweaters! It felt amazing and I wish it would return tomorrow. However, the weather's not looking so lovely for the next few weeks. More heat and humidity with no rain in sight.
To bring us out of the funk, I made this sweet, summer-time crumble over the weekend and shared it with friends and family. The result? Let's just say that seconds (and thirds) were had by most everyone. Out of the oven, it looked a bit too watery for what I would normally consider a 'crumble', but that didn't stop the natives from devouring it. We topped it with whipped cream and had a great little visit… all the while, dreaming of cool breezes and rain. We're ready for you, Autumn!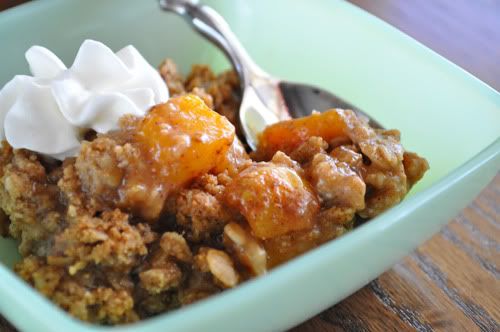 Gaye of Laws of the Kitchen is this week's hostess. She'll have the recipe listed on her blog, and for a list of the other TWD bakers who participated this go-round, check the 'Leave-Your-Link' post up now!
Tropical Crumble (pgs. 418-419)
Source: Baking – From My Home to Yours by Dorie Greenspan