My heart crumbled to pieces as I read the story of Jennifer Perillo's husband Mikey, and his untimely death this past Sunday. I cannot imagine what she and her family are going through at this moment. The Bible teaches us not to fear death, but losing someone so dear to me is something that scares me to my core. I break down when I think of the pain and despair that Jennifer is feeling.
To help her and her two small girls in their grieving process, all Jennifer asked of us in the food blogging world was to "make a peanut butter pie this Friday and share it with someone you love… then hug them like there's no tomorrow because today is the only guarantee we can count on." When I read this, I immediately thought of John. He loves anything that includes peanut butter and I don't think we tell him enough how much he means to our family. John is not only an asset to our business (as a long-time employee who sometimes voluntarily works seven days a week), but as a close friend to Dad, Mom, R and myself. He's been with us during good times and bad – we've traveled across the country together and we've laughed so hard that we couldn't breathe. I know that in those times, we've all grown a little closer. And if it came right down to it, either one of us would be there for the other if trouble arose. John isn't just a friend, he's family.
My version of 'Peanut Butter Pie' might look a little unconventional, but it's creamy and sweet just the same. So good in fact, that John, Mom and I enjoyed a slice of it while we hid in the kitchen, away from the rest of the office – this pie was super-special and it deserved to be enjoyed together. We thought of Mikey, of Jennifer and most importantly, we celebrated life… and John.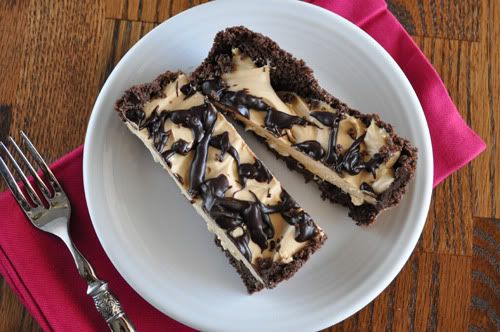 A Peanut Butter Pie for Mikey, Jennifer & John
Ingredients
8 oz chocolate graham crackers
4 tbsp unsalted butter, melted
8 oz finely chopped chocolate or dark chocolate chips, divided
1/4 c peanuts, chopped
8 oz cream cheese, softened
1 c creamy peanut butter
1 c confectioners' sugar
1 tsp pure vanilla extract
1 c Sugar-Free Cool Whip
Instructions
Add the graham crackers to the bowl of a food processor and pulse into fine crumbs. Combine melted butter and cracker crumbs in a small bowl, and stir with a fork to mix well. Press mixture into the bottom and 1-inch up the sides of a loaf pan. Melt half of the chocolate in a double boiler or in the microwave. Pour over bottom of cookie crust and spread to the edges using an off-set spatula. Sprinkle chopped peanuts over the melted chocolate. Place pan in the refrigerator or freezer while you prepare the filling.
Place the cream cheese and peanut butter in a deep bowl. Beat on medium speed until light and fluffy. Reduce speed to low and gradually beat in the confectioners' sugar. Add the vanilla extract, then the Cool Whip. Increase speed to medium and beat until all the ingredients are combined and filling is smooth. Pour the filling into the prepared loaf pan.
Melt the remaining half of the chocolate and let cool for a few minutes. Then, drizzle the melted chocolate on top and refrigerate or freeze for three hours or overnight before serving.
Source: A 'My Baking Heart' original
http://mybakingheart.com/2011/08/12/a-peanut-butter-pie-for-mikey-jennifer-john/