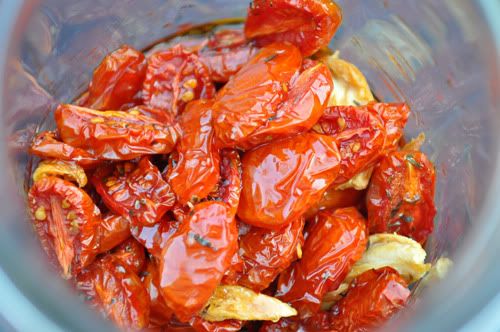 Slow-roasted. Sound familiar? Or feel familiar? If you're in the South, you know exactly what I'm talking about. Once you step foot outdoors in this ridiculously hot weather, you begin to slowly roast. It's like opening a steamy oven door or sitting in a sauna for half an hour. It's absolutely miserable.
One thing that makes it a bit bearable is Dorie's Simple Slow-Roasted Tomatoes, this week's pick via French Fridays with Dorie. Simple, as the name suggests. Incredibly flavorful, too… with a small preview, as the warm smell drifts through the entire house during the roasting process. And during those few hours, I had dreams of big bowls of pasta topped with these tiny red tomatoes. Whether you're cooking for just two people or a crowd, it's perfect to prepare ahead of time to serve to dinner guests.
Ready for the oven!
#46 – Simple Slow-Roasted Tomatoes (pg. 344-345)
Source: Around My French Table by Dorie Greenspan
Grab the recipe from the book or head over to Dorie's website where she has a great post about these fabulous tomatoes!