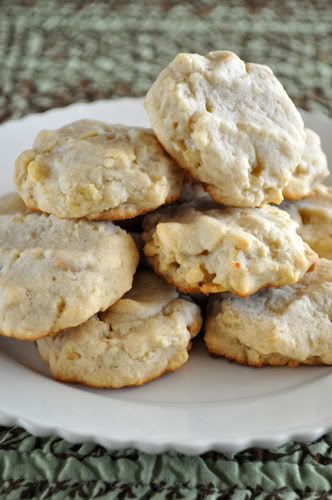 Life needs to be 'junked-up' now and again, don't ya think? And what better way than to combine peanut butter & potato chips and roll it all into a warm cookie? Soft & crunchy, sweet & salty… sounds like the perfect junk food to me!
As soon as I saw these advertised on PB & Co.'s website (lovingly made by the awesome Jessie of Cakespy), I knew I had to try them. They sounded fab and definitely a treat that the co-workers would gobble up. Simple to make and even easier to eat… they were gone within a few minutes after I delivered them to the Customer Service department. Next up, though? Trying them with my all-time favorite, 'Dark Chocolate Dreams'!!
Double PB-Potato Chip Cookies
Adapted from: Peanut Butter & Co.
1 c unsalted butter, softened
2 tbsp smooth peanut butter*
1 lg egg
1/4 c light brown sugar
1/4 c granulated sugar
1 tsp vanilla extract
3/4 c crushed potato chips
1/2 c peanut butter chips
2 c all-purpose flour
Preheat oven to 350 degrees F. In a mixing bowl, cream butter and sugars. Mix in the egg. Stir in the peanut butter and mix well. Then add vanilla and mix well. Carefully stir in potato chips and peanut butter chips. Mix in flour just until dough pulls away from the sides of the bowl and forms a ball.
Shape into 1 inch balls and place 2 inches apart on parchment paper-lined baking sheets. Bake for 12-15 minutes or until lightly browned. Cool on the baking sheet for 10 minutes, then on a wire rack for 30 minutes before serving.
*Either 'Smooth Operator' or 'The Bee's Knees' from Peanut Butter & Co. work well here!