In the last year or so, I've become quite accustomed to the random request. There are inquiries from those that suffer from celiac disease, appeals from lactose-intolerent readers, ones that are allergic to nuts or those that just want a lemon cake for their birthday.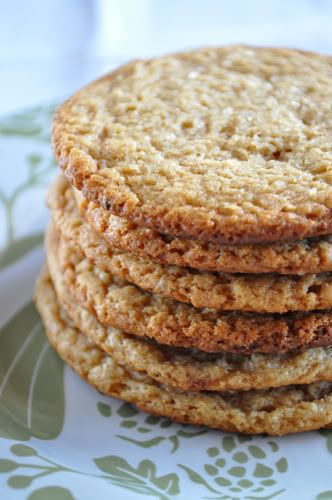 One such question came from C's little sister a few weeks ago. Without going into too much detail, her doctor's put her on a dairy-free diet (which will possibly lead to a gluten-free diet) until they can find out what's bothering her. Thus, her asking for a dairy-free treat that wouldn't upset her tummy. I obliged and found these Tahini Cookies just begging to be made. If you remember, I'd already whipped up a big batch of Tahini in preparation for my Spicy Black Bean Hummus, so it was obviously fate that she'd ask me now. I had more than enough left over to bake the cookies and it was a joy to see her enjoy a sweet without feeling horrible afterwards. If you love peanut-butter cookies, you'll find a new favorite in these!
Tahini Cookies
Source: About.com
2 c all-purpose flour
1-1/4 c light brown sugar, packed
1 tsp baking soda
1/2 tsp Kosher salt
2 egg yolks, lightly beaten
1 c raw tahini
1/2 c honey
1/4 c lemon juice
1/2 tsp pure vanilla extract
Turbinado sugar, for sprinkling
Preheat oven to 350 degrees F. Line two large baking sheets with parchment paper. In a medium-sized mixing bowl, sift together the flour, sugar, baking soda and salt. Set aside. In a large mixing bowl, combine the egg yolks, tahini, honey, lemon juice and vanilla using an electric hand mixer. Beat until well combined.
Gradually add the dry ingredients to the wet, mixing until forming a very thick, crumbly dough. Use your hands to form the dough into 1″ balls, placing them on the sheet and flattening them slightly with your fingers as you work. Sprinkle the tops with turbinado sugar, then bake for 16-18 minutes, or until the tops are cracked and the bottoms are golden brown.
Thanks so much to those who have already set their homepages to Yahoo! For those who haven't, I'm asking that you join me in support of Yahoo!'s $20,000 commitment to Share our Strength! This is a quick (30-second) way to commend Yahoo! for its partnership with an organization working to end hunger in America. To show its appreciation, Yahoo! has committed to donate $20,000 to Share Our Strength on behalf of us, the Foodbuzz community of publishers and readers. In turn, you have the opportunity to show your support of this partnership by setting Yahoo! as your homepage by clicking on this link. Like what they're doing? Let them know by changing your homepage! And don't forget to share the campaign with your Facebook friends and Twitter followers! 🙂