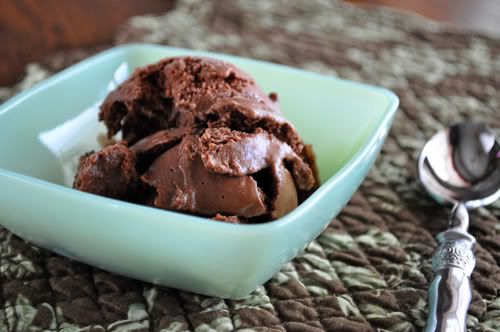 Thank you, Steph of A Whisk and A Spoon, for this week's most fitting choice. There was nary an oven turned on… and in this 115-degree heat, it's without-a-doubt, certainly appreciated. This week's pick is a bittersweet & chilly treat. Perfect for these sweltering Summer days (and nights)… it's a welcome dessert at any backyard barbeque or indoor candlelit dinner.
It takes just a few minutes to stir everything together and only a bit more to let it chill in the fridge. The only hard part is waiting for it to churn into that creamy sorbet!
To grab the recipe, head over to Steph's blog. And to see how the other bakers fared, check the 'Leave-Your-Link' post over at Tuesdays With Dorie!
Creamy Dark Chocolate Sorbet (pg. 431)
Source: Baking – From My Home to Yours by Dorie Greenspan