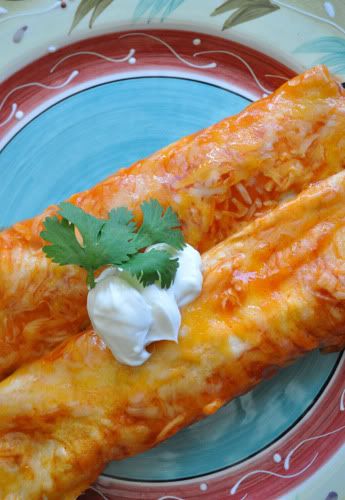 Another week, another reminder! Remember last Thursday when I mentioned Yahoo!'s $20,000 commitment to Share our Strength? Well, I'm asking yet again that you join me in supporting this important cause. By taking 30 seconds of your time, you're commending Yahoo! for its partnership with an organization working to end hunger in America. To show its appreciation, Yahoo! has committed to donate $20,000 to Share Our Strength on behalf of us, the Foodbuzz community of publishers and readers. If you love what they're doing, then let them know by changing your homepage – just click on this link and you're good to go! Thanks again for your support!
Now on to the enchiladas!! C and I are total Mexican food junkies, sometimes chowing down on it three to four times a week. I've definitely eaten my fair share of chicken enchiladas (they're probably my favorite Mexican dish), but I've never had any that were this good. Sure, I've done the Stacked Green-Chile Chicken Enchiladas and I loved the Creamy Chicken ones, too, but these… these were on a totally different level. Like, 'drag-out-the-pedestal-and-set-them-on-top' kind of level. I hate to toot my own horn, but these were so good that C ate three and a half of them for dinner and I had two more for lunch the next day. And when C is that excited about dinner, you know I've done a good job. 🙂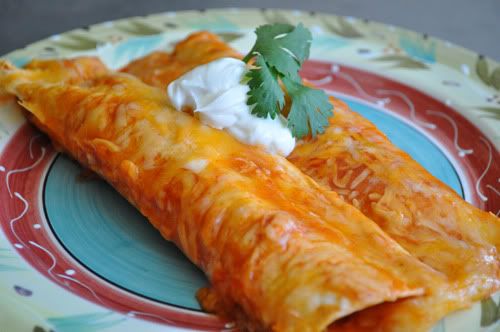 Shredded Chicken Enchiladas
Ingredients
Olive oil
1 c white onions, chopped
2 sm cloves fresh garlic, minced
4 c cooked chicken, shredded
1 tbsp red chile powder
2 tbsp cumin
Kosher salt
2-3 cans enchilada sauce
12 flour tortillas
2 c grated cheese
Cilantro, for garnish
Instructions
Preheat the oven to 350 degrees F. Coat a large skillet with oil and saute the onions on medium heat until translucent, a few minutes. Add the garlic for a minute or two more. Add in the chicken, then the chile powder, cumin and salt (to taste), stirring everything together to coat evenly. Transfer chicken mixture to a large bowl and set aside.
Turn the heat to LOW and add 1/2 a can of sauce to the same skillet. Add the remaining 1/2 can of sauce to the bottom of a 9″x13″ baking dish and set close to the skillet. Dip a tortilla in the skillet and with a pair of tongs, turn to coat once or twice. Remove tortilla to the baking dish, then place a few spoonfulls of chicken mixture in the center of the tortilla and roll it up. Place the enchilada at the end of the dish and repeat until all twelve of your enchiladas are neatly placed in rows in the dish. Cover the enchiladas with the remaining sauce, then liberally sprinkle with the cheese. Place in the oven and cook for 10 minutes, or until cheese is bubbly. Serve with guacamole, sour cream or salsa. Garnish with cilantro.
Source: a 'My Baking Heart' original recipe
http://mybakingheart.com/2011/07/21/shredded-chicken-enchiladas/