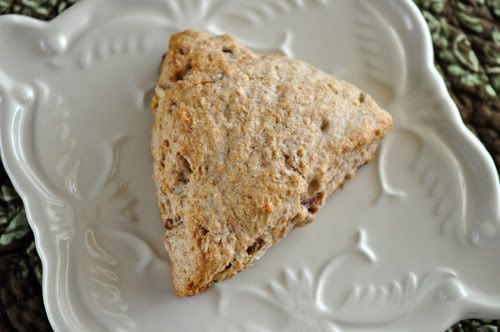 Another day, another scone! If you haven't already noticed, I altered this week's TWD recipe once again. Chestnut flour is impossible to find around these parts. Absolutely impossible. I even drove the 40 miles down to the closest Whole Foods and couldn't get my hands on any.
Since I was unable to locate some, I equally subbed whole wheat flour and added in 2 teaspoons of ground cinnamon and a 1/2 cup of chopped pecans. And as soon as I opened that oven door, I was transported about three months ahead into Fall. The entire house smelled of cinnamony goodness and those little scones never had a chance. Within a few minutes, I had devoured two!
This week's hostess is Andrea of Andrea in the Kitchen. You can find the recipe on her blog and a list of this week's participants on the 'Leave-Your-Link' post over on Tuesdays With Dorie!
Whole Wheat Cinnamon Pecan Scones (pg. 34)
Adapted from: Baking – From My Home to Yours by Dorie Greenspan