Since C was working over the weekend and on the Fourth, I decided to go a little crazy in the kitchen. I made several different things, both savory and sweet, and I even met another '30 Before 30′ goal!
I truly went all out, starting with this homemade tahini. It's incredibly simple to put together and I even had enough left over to make something special for C's sister. That recipe? Look for it soon! The hummus, though… I almost ate it all in one sitting. By myself. It's some of the best 'dip' I've ever tasted and I cannot wait for another excuse to make it!
Homemade Tahini
Adapted from: About.com
Yields: approximately 2 cups
2 c sesame seeds
1 c extra-virgin olive oil
1/4 tsp sesame seed oil
Pinch of Kosher salt
Preheat oven to 350 degrees F. Toast sesame seeds for 5-10 minutes, tossing the seeds frequently with a spatula. Do not allow to brown. Cool for 20 minutes.
Pour sesame seeds into food processor and add olive oil. Blend for 2 minutes. Check for consistency. The goal is a thick, yet pourable texture. Add more oil and blend until it desired consistency is almost reached, then add in sesame seed oil and salt. Tahini should be stored in the refrigerator in a tightly closed container. It will keep for up to 3 months.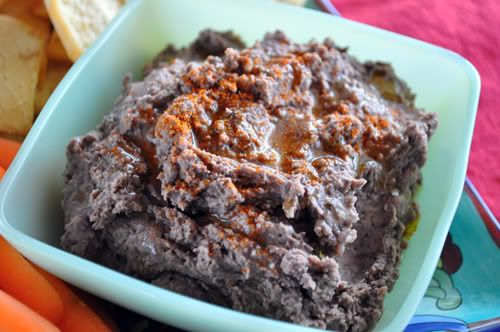 Spicy Black Bean Hummus
Adapted from: Cooking Light, January 2009
1 fresh garlic clove, peeled
2 tbsp fresh lemon juice
1 tbsp tahini
1 tsp ground cumin
1/4 tsp salt
1 (15-oz) can black beans, rinsed and drained
1 sm jalapeño pepper, chopped (about 2 tbsp)
2 tsp extra-virgin olive oil
Dash of ground red pepper
1 (6-oz) bag pita chips (such as Stacy's Simply Naked)
Place garlic in a food processor and process until finely chopped. Add lemon juice, tahini, cumin, salt, black beans and jalapeño pepper; process until smooth.
Spoon bean mixture into a medium bowl, and drizzle with extra-virgin olive oil. Sprinkle with ground red pepper. Serve with pita chips.