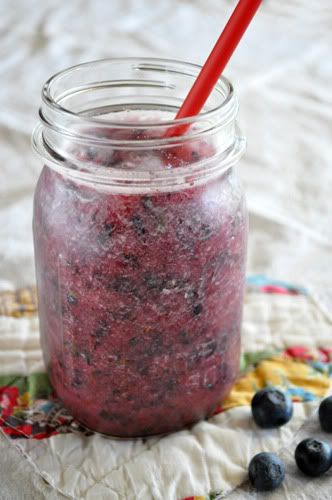 You know the commercial: a gruff voice announces that lemons always get a bad rap, as one lucky lady sips on the newest McDonald's delight, the Frozen Strawberry Lemonade. Does it tempt you as much as it does me? I get *this* close to jumping in the car and driving down to the nearest 'Golden Arches' before I remind myself of all the sugar and hundreds of calories that this thing packs in such a small cup. I was craving that frozen concoction something fierce, so it was truly fate when this recipe floated through my inbox last week.
It's not speckled with that famous red berry, but a pretty popular blue one instead. I urge you to try this as soon as humanly possible… just don't blame me if you become as addicted as I have. 🙂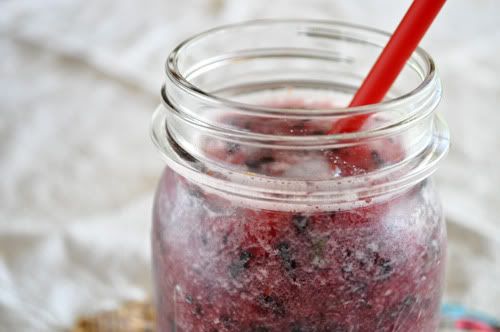 Frozen Blueberry Lemonade
Adapted from: Real Simple
PointsPlus™ Value: 0 (without the Vodka!)
Yields: 4 servings
1-1/2 c fresh or frozen blueberries
1 c Crystal Lite lemonade
1/2 c fresh mint leaves, plus more for garnish
2 tbsp + 2 tsp Splenda
3 c ice
1/2 c Vodka (optional)
In a blender, puree the blueberries, lemonade, mint, Splenda and ice (and vodka, if using) until smooth. Garnish with mint sprigs and serve!