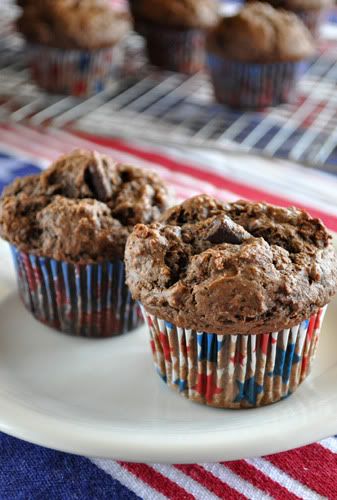 Better late than never, right? It seems that every time my parents are away, I'm at my busiest. Meeting repairmen, delivering documents, running errands, picking up meds, feeding doggies… it's the life I live. So, because of this hectic morning, today's post is a little late. What made it a bit better, though, is the one beautiful muffin I devoured for breakfast. 🙂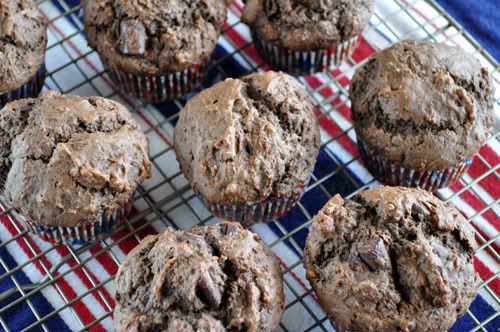 By completely ignoring the suggestions that floated all over this week's P&Q, I threw caution to the wind and didn't add any additional sugar. And boy, was that a mistake. While the chunks of bittersweet chocolate packed a punch and the texture was dense (but tender), the muffins lacked a sweetness you'd come to expect from a breakfast treat of this caliber. Next time (and there will be a next time for this chocoholic), I'm definitely adding more sugar.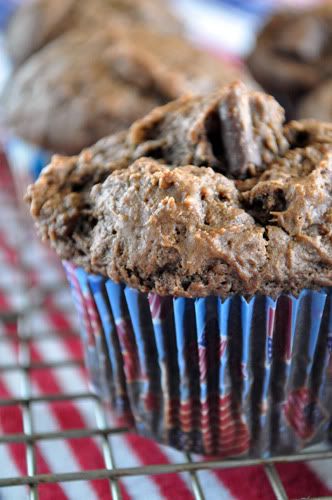 Many thanks to this week's hostess, Bridget, of The Way the Cookie Crumbles. You can find the recipe on her blog and don't forget to check out the list of other bakers who followed along… click over to the 'Leave-Your-Link' post on the Tuesdays With Dorie site!
Chocolate-Chocolate Chunk Muffins (pg. 18)
Source: Baking – From My Home to Yours by Dorie Greenspan