Need a simple, yet fabulous dessert for your Fourth of July celebration? Then look no further. This recipe is super-easy and fun, resulting in a finished cake that's incredibly patriotic!
I used Dorie's Perfect Party Cake and Pinch My Salt's Cream Cheese Frosting recipes, as they're both amazing and ones that I go-to every time I'm wanting the very best. What I ended up with was a festive little group of cupcakes that will bring a smile to anyone's face. They were gobbled up as soon as the last swish of frosting was applied and they might even make a second appearance at our office's Fourth celebration this Friday… along with another treat I'm baking up Thursday night (look for that post on Monday morning!).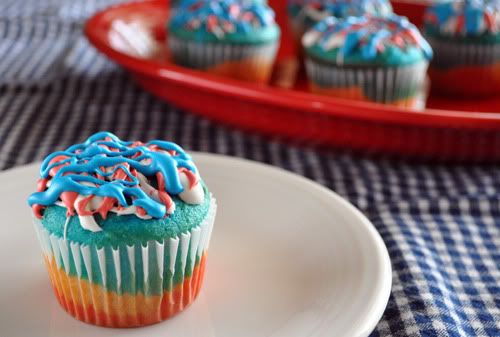 Ingredients
For the Cupcakes:

2-1/4 c cake flour
1 tbsp baking powder
1/2 tsp Kosher salt
1-1/4 c whole milk or buttermilk
4 lg egg whites
1-1/2 c granulated sugar
2 tsp grated lemon zest
8 tbsp unsalted butter, at room temperature
1/2 tsp pure lemon extract

For the Frosting:

2 (8 oz) pkgs cream cheese, at room temperature
8 tbsp unsalted butter, at room temperature
1 tsp pure vanilla extract
2-1/2 c Confectioner' sugar, sifted
Pinch of salt
Instructions
For the Cupcakes:
Heat oven to 325 degrees F. Line a cupcake pan with white cupcake liners. Sift together the flour, baking powder and salt. Whisk together the milk and egg whites in a separate medium bowl. Put the sugar and lemon zest in a mixer bowl or another large bowl and rub them together with your fingers until the sugar is moist and fragrant. Add the butter, and working with the paddle or whisk attachment, or with a hand mixer, beat at medium speed for a full 3 minutes, until the butter and sugar are very light.
Beat in the extract, then add one third of the flour mixture, still beating on medium speed. Beat in half of the milk-egg mixture, then beat in half of the remaining dry ingredients until incorporated. Add the rest of the milk and eggs, beating until the batter is homogeneous, then add the last of the dry ingredients. Finally, give the batter a good 2-minute beating to ensure that it is thoroughly mixed and well aerated.
Pour 1 cup of the batter into a small bowl, then stir in red food coloring until well mixed. Pour another cup of the batter into a separate bowl and stir in blue food coloring until well mixed. Spoon red cake batter evenly into cupcake liners. Carefully spoon remaining white batter over red batter in liners. Then, carefully pour blue batter over white batter (blue batter does not need to cover white batter completely, though). Depending on your oven, bake anywhere from 18-25 minutes or until a toothpick inserted in the center of one of the cupcakes comes out clean. Cool cakes for 5 minutes in the pan, then let cool completely on a cooling rack, about 30 minutes.
For the Frosting:
With an electric mixer, blend together cream cheese and butter until smooth. Turn mixer to low speed and blend in powdered sugar, salt and vanilla extract. Turn mixer on high and beat until light and fluffy. Use immediately or refrigerate, covered, until ready to use. If refrigerated, the frosting will need to be brought to room temperature before using (after frosting softens up, beat with mixer until smooth).
When ready to use, divide frosting evenly into 3 microwavable bowls. Microwave 1 bowl of frosting uncovered on High a few seconds until smooth enough to drizzle over cake. With a small spoon, drizzle all of white frosting back and forth across all the tops of the cupcakes in a striping pattern. Repeat microwaving for the second bowl of frosting until smooth. Stir in a few drops of red food coloring until well blended. Drizzle over cupcakes, scattering frosting back and forth. Repeat with remaining bowl of frosting and blue food coloring, making sure red, white and blue frostings can be seen on the cupcakes. Let cupcakes stand at room temperature until frosting is set before serving.
Adapted from: Betty Crocker, Baking - From My Home to Yours by Dorie Greenspan & Pinch My Salt
Notes
If you prefer a sweeter and/or stiffer frosting, more Confectioners' sugar can be added (up to four cups). But remember, the more sugar you add, the less you'll be able to taste the tangy cream cheese!
http://mybakingheart.com/2011/07/01/firecracker-cupcakes/