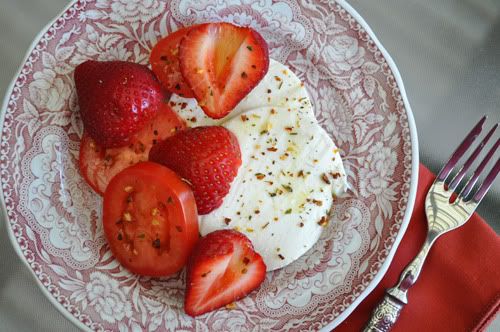 During our last trip to Germany, our friend Jindra (pronounced Heen-drah) took us to the Gewürz Depot on one of our (many) shopping excursions into Regensburg. The shop itself was quaint, unassuming and definitely not one of the touristy-types that line the main streets of the city center.
Once inside, Jindra insisted that we take home several jars of their 'Mozzarella-Tomaten-Gewürz' mix. It's what she had been using all week long on the Caprese Salads she served us (which were out of this world). Obviously, Customs would've had a field day with Mom and me if we were carrying jars upon jars of spices, so we just grabbed a small bag each and went on our way. Now, I'm a little fuzzy on my German, but to make Mango proud, I studied up a bit to read you the label. It's filled with dried tomatoes, onion, salt, basil, chili powder, garlic, paprika, thyme, oregano, pepper and parsley. Hey… what do you know? I'm not as fuzzy as I thought.
And it's on this salad that I used this yummy little spice mix. Even with Dorie's addition of strawberries to the recipe, it's a great reminder of Jindra's Caprese Salads. The berries punch things up, giving the normal Tomato-Mozzarella Salad a sweet side. It's fresh, bursting with flavor and super-colorful. One dish that's absolutely perfect for Summer!
You can grab the recipe from Around My French Table and see how others interpreted Dorie's salad on the FFwD 'Leave-Your-Link' post!
#40 – Mozzarella, Tomato and Strawberry Salad (pg. 118-120)
Source: Around My French Table by Dorie Greenspan