I'm not a momma, or even an aunt. I don't teach school and I'm nowhere close to the teen years where 'babysitter' is the ideal job title. So, it's obvious that children and summer vacation are not subjects that I have a lot of experience in. However, I'd consider myself a youngin' at heart. And coming up with kid-friendly treats is pretty easy for me. Who doesn't like a nice peanut butter & jelly sandwich? Especially in between swimming lessons, Vacation Bible School, art classes and day camps?
Since I'm more of the sweet tooth-kind, I made up these PB & J Cookies with the help of Hero Fruit Spreadables. They're 100% natural and free of artificial ingredients and high-fructose corn syrup – great for the kid in all of us! Those sweet people at Hero sent me a pretty basket filled with crackers, peanut butter, a cute little spreader and four different flavors: Strawberry Red Currant, Mixed Berry, Strawberry Banana and Cherry Banana. If you like a jelly or jam that's smooth but tart, then this brand's for you. Look for them in your local SuperTarget now… and give these cookies a try when you get a break from that play date. 🙂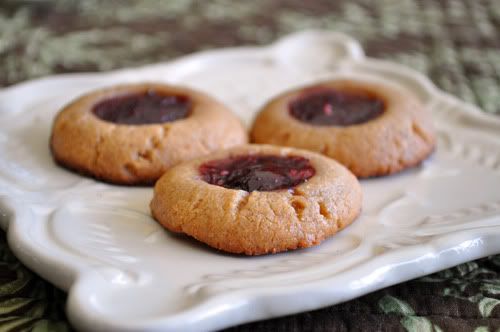 PB & J Cookies
Adapted from: Strawberry Chic
1 c peanut butter
1 c sugar
1 lg egg
2 tbsp all-purpose flour
1/2 c jelly
2 tbsp Nutella (optional)
Preheat oven to 375 degrees F and line baking sheets with parchment paper. Combine peanut butter, sugar, egg, and flour in a large bowl & mix until well combined. Roll the dough into small balls and place on a baking sheet (about 15 to a sheet). The dough is a little crumbly, so I would squish each piece in my hands before rolling them into a ball shape.
Using a small rounded spoon, make an indent in the center of each cookie, deep enough to allow for jam filling. If using, place about a 1/4 teaspoon of Nutella into each cookie. Place about 1/2 to 1 teaspoon of Jelly on each cookie (don't worry if the jelly overflows a little, it will pretty much hold its shape through the cooking process). Bake for 8-10 minutes. Let set and cool on a wire rack for about 10 minutes before eating.