C and I took a little getaway up to Arkansas to visit family this past week, and after three days of Subway, Chick-fil-A, greasy pizzas and processed Mexican food, I was definitely craving a bit of home-cooked, comfort food. Now, I'm sure when you think of 'comfort food', you think of chicken fried steaks, mashed potatoes, green beans, maybe a bit of macaroni & cheese, yes? Not me. I think of fresh baked bread with a thick slabs of butter, crisp peanut butter cookies, tart cherry cream pies and warm slices of cake… such as this Chocolate Chip & Almond Loaf from Baking.
I did take a few detours on this week's TWD pick. You'll notice that there are no dates or even raisins. I can't handle dates at all and I'm only fond of raisins in Oatmeal Raisin cookies, so this 'Date & Nut Loaf' turned into a Chocolate Chip & Almond one instead. And I have to say, it's pretty darn good. When it comes to sweet treats, I've been super-disciplined these past six months. But, when I opened the oven and inhaled the delectable smells coming from that loaf pan, I had to give in. Points be damned… this totally made my week.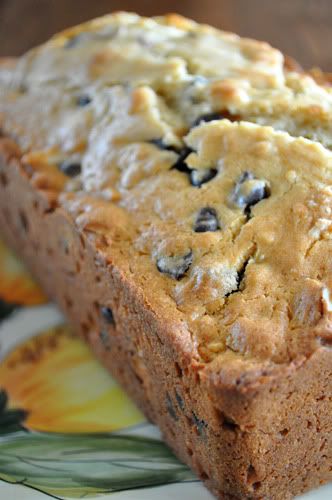 Many thanks to this week's hostess, Mary, of Popsicles and Sandy Feet. Click over to her blog for the recipe and for a list of other loaves that hit the web today, check out the 'Leave-Your-Link' post on the TWD page!
Chocolate Chip & Almond Loaf (pg. 228)
Adapted from: Baking – From My Home to Yours by Dorie Greenspan