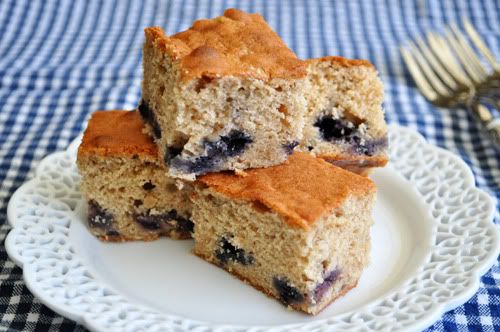 My youngest cousin graduated from high school this past weekend, and as I packed things up to drive the two hours to celebrate this major accomplishment with my family, I thought back to the day he was born… a much simpler time when my 10-year-old self had nothing worry about.
My little sister and I saw our cousins as often as possible, seeing that we all lived so far away from each other. Ryan came along at a later time than the rest of us, so for two young girls, he was like our baby doll. We pushed him on the swings, pulled him up and down the street in our wagon and even dressed him up in sundresses, hats and the occasional pearl necklace (I'm sure I'm in trouble for divulging that fact!). Who knew that he'd grow up to graduate as Valedictorian with a bright future at Rice University?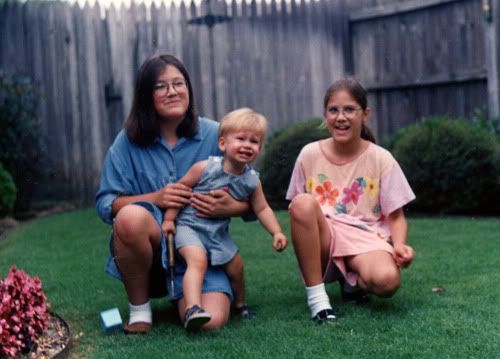 1994 – Obviously, Ryan wasn't so fond of taking photos as he is now.
The real reason for this post, though? Dorie's Blueberry-Brown Sugar Plain Cake. I'd spent the morning whisking dry ingredients and whipping egg whites, thinking about Ryan all the while. I'd also intended to take the cake to Fort Worth, but it wasn't ready by the time I had to walk out the door, so it was a special little treat once I returned that night. It was fluffy, light and had that spicy little bite of cinnamon at the end – it would be perfect for those upcoming Fourth of July parties. I know it'll definitely show up on my dessert table!
Many thanks to Cindy of Everyday Insanity for hostessing this week's choice. Find the recipe on her blog, then click over to the 'Leave-Your-Link' post to check out other blueberry-brown sugar cakes from my fellow TWD bakers!
Blueberry-Brown Sugar Plain Cake (pg. 36)
Source: Baking – From My Home to Yours by Dorie Greenspan
Congrats, Ryan… I'm super proud of you and wish you the very best at Rice!