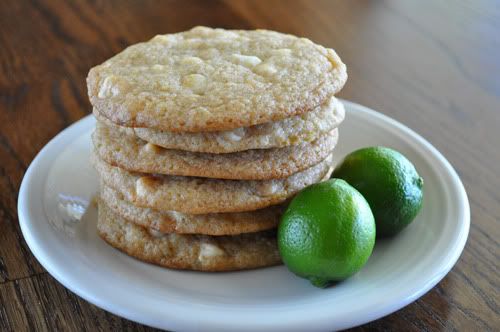 No 'Tuesdays With Dorie' today, as it was hard finding enough people to take this week's custard off my hands. Instead, I made this incredibly yummy batch of cookies that just defines 'Summer'… sweet, salty, tart and all kinds of tropical.
About two weeks ago, I received this sweet note from Jen at Kelapo Coconut Oil, asking if I'd like to sample a bit of their product. Of course, I said yes. And just a few short days later, I had a big package of goodies waiting on my front porch for me. Coconut Oil is 100% natural, trans-fat-free, unrefined, certified organic and (when you buy from Kelapo) fair trade approved. Sounds like the perfect alternative to butter! I could've made a cake, or even a pie, but I knew these cookies would be perfect for a quick test. And from the response I received at work, they scored an A+. Kelapo: I'm calling in an order very soon!!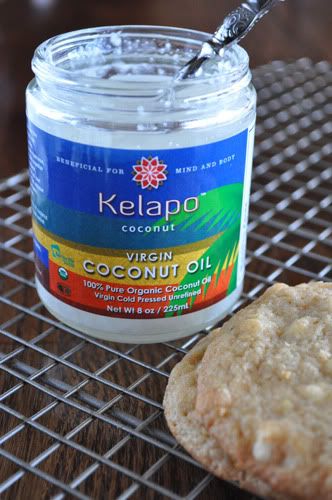 Coconut, Key Lime & White Chocolate Chip Cookies
Adapted from: Eating, Etc.
Yields: 32 cookies
1 c organic, cold-pressed, extra-virgin coconut oil
3/4 c brown sugar
3/4 c granulated sugar
2 lg eggs
2 tsp vanilla extract
2 tsp imitation coconut flavor
Juice from 4 fresh key limes
1 tbsp grated key lime zest
1-3/4 c all-purpose flour
1/2 c whole wheat pastry flour
1 tsp baking soda
1 tsp baking powder
1 tsp sea salt
12 oz bag white chocolate chips
Preheat oven to 375 degrees F. In the bowl of a standing electric mixer, cream oil and sugars. Beat in eggs, vanilla & key lime juice until well combined. Then slowly add flour, baking soda, powder, salt and white chocolate chunks until just combined.
With a medium cookie scoop, scoop dough onto a parchment-lined baking sheet and space at least 2″ apart (as these will spread) and bake for 10-13 minutes, until slightly golden around edges. Cool completely on a wire rack, then serve.