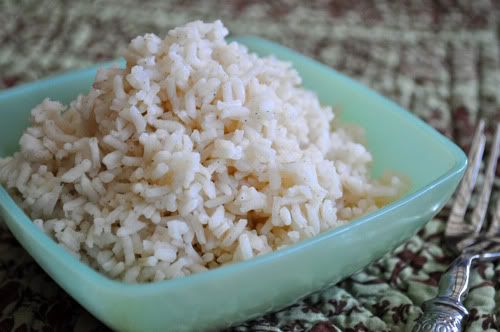 I admit it. I'm addicted to carbs. Always have been, always will be… it's just a fact. So you can imagine how I excited I get with each carb-laden FFwD pick that shows up in our Recipe List. Especially since I've scaled back quite a bit on those precious breads, pastas and rices in the last twenty weeks.
Yes, twenty weeks. I'm 25 pounds lighter because of it, but it's pretty obvious that it's been a while since I've had a nice bowl of rice. So, thank you Dorie, for reuniting me with my first love… I've missed it so.
This rice isn't for the weak, though. The fresh cardamom pods punch things up five or six notches and nasal passages are cleared just enough to smell the fragrant aroma that floats up from the stove. See the flecks of cardamom? Those tiny spots are God's gift to the tongue. And cooking the rice in chicken broth makes this flavorful dish all the more richer. It's a side that would be perfect with lamb and one that I'm certainly adding to my list of go-to's.
#36 – Cardamom Rice Pilaf (pg. 382)
Source: Around My French Table by Dorie Greenspan


(Carb Lover)