Don't tell C, but I've totally fallen in love again… and I have these blondies to blame for it. They're soft, cakey and with just one bite, I'm thrown right into Autumn.
The perfect thing about these is that my kitchen was already stocked with everything needed (I'm positive I have more cans of pumpkin in my pantry than Walmart has on their shelves). The recipe is a snap to put together and with a yield of sixteen blondies, you can feed an army! These would be a wonderful twist to the regular ol' desserts that show up at a Memorial Day party, don't you think?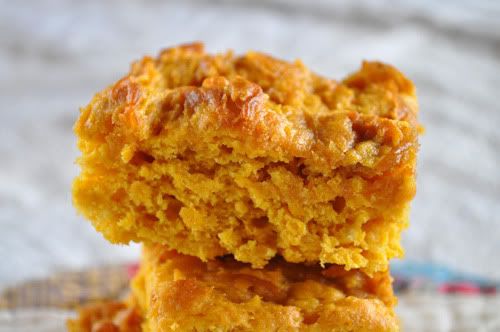 Peanut Butter-Pumpkin Blondies
Ingredients
1 (18.25 oz) box white cake mix
1 (15 oz) can pureed pumpkin
1/4 c reduced-fat, creamy peanut butter
1 tbsp skim milk
Instructions
Preheat oven to 400 degrees F. Spray a 9" x 13" baking pan with nonstick spray and set aside. In a large mixing bowl, combine cake mix with pumpkin. Stir until completely blended and you have a thick batter. Spread batter into the baking pan, and smooth out the top.
In a small bowl, combine peanut butter with milk. Using a butter knife or a narrow spoon handle, stir until thoroughly mixed. Swirl the peanut butter mixture over the top of the batter with the knife or spoon handle. Bake in the oven for about 20-25 minutes or until a toothpick inserted into the center comes out clean. Allow to cool, then cut into 16 pieces.
Adapted from: Hungry Girl
Notes
http://mybakingheart.com/2011/05/19/peanut-butter-pumpkin-blondies/