I'm not a big maple syrup fan, and I rarely eat pancakes, so keeping a jar of the stuff in the cabinet just doesn't happen around here. It's also crazy expensive – since I halved the recipe and only needed two tablespoons, I just didn't feel that it warranted a new bottle. Luckily though, I had something that would fit the bill perfectly.
I ended up substituting Lyle's Golden Syrup, which worked like a charm. I first found out about Lyle's last March, when I made British Flapjacks, a yummy granola bar-type treat that's extremely popular in Great Britain. Golden syrup is rich and sweet, almost like honey. The 'biscuits' were tender and completely crumbly, but not flaky like a traditional biscuit. It was a super-simple recipe that would be wonderful with a nice, hot bowl of chili. File this one away for Fall!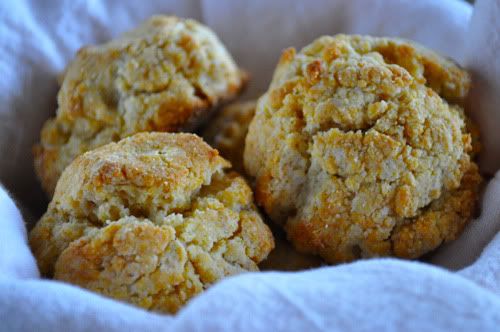 Lindsay from A Little Something… Sweet is our hostess this week. To see the recipe and make a batch of your own, click over to her blog… and to see all the other Maple Cornmeal Biscuits, check out the 'Leave-Your-Link' post on TWD!
Golden Syrup Cornmeal Biscuits (pg. 24)
Adapted from: Baking – From My Home to Yours by Dorie Greenspan