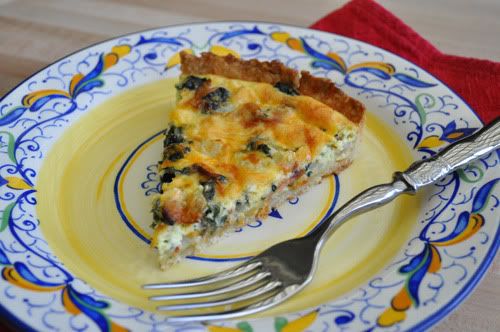 Time consuming? Yes. Worth it? Most definitely. We had this tasty little dish for dinner last night. It was a quintessential Spring meal, sitting alongside a yummy green salad.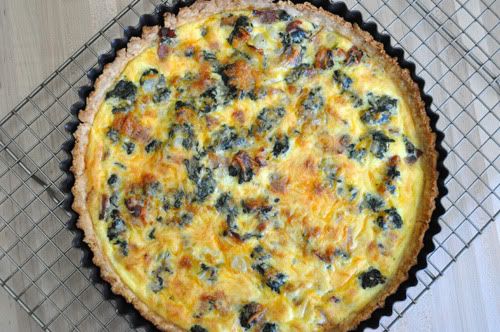 But like I mentioned above, this FFwD recipe was quite the project… two days, in fact. Day One consisted of putting the dough together, chilling it for three hours, then rolling it out and placing it in the tart pan, with another chilling session after that. The next day required a blind bake of the crust; steaming, draining, and wringing out the spinach; frying up the bacon, onions and garlic; placing it all in the crust, then finally pouring in the egg/cream mixture. After 30-40 minutes in the warm oven, it was ready (and so was I!). It was delicious, of course, but I think just a bit too fussy for a weeknight meal. This one is better left for those weekend brunches and church dinners, where you'll be the envy of everyone in attendance. 🙂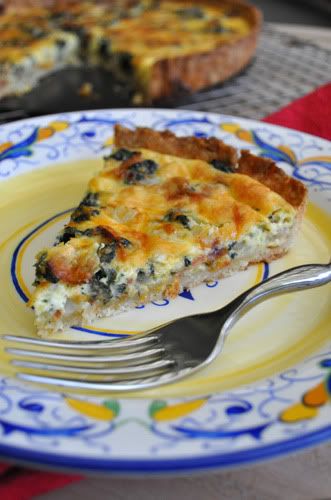 Want to check out other Spinach and Bacon Quiches hitting the web today? Then head over to the 'Leave-Your-Link' post on the French Fridays site! We'd love to have you join us, so if you still haven't bought a copy of this beautiful book, then get on it!
#34 – Spinach and Bacon Quiche (pg. 160-161)
Source: Around My French Table by Dorie Greenspan