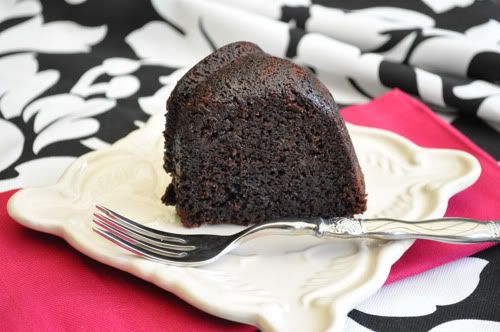 And I'm in under the wire! I haven't been this late to a TWD party in quite a while, but for some reason, I've felt totally behind schedule these past two weeks. And not just baking-wise… work-wise, life-wise, etc. But this post isn't about that… it's about a bundt!
Apologies to Ms. Dorie, but the two mommas in my life wouldn't touch a fruit-and-nut-filled cake with a 10-foot pole. And since they're the lucky recipients of said cake, I figured something a little more appealing to their tastes should be in order.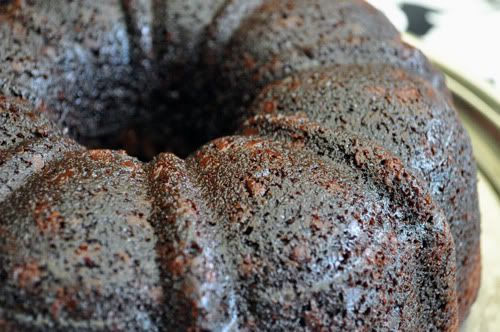 Thus, the Chocolate-Chocolate Brown Sugar Bundt Cake was born… it's this week's (altered) choice from our hostess, Peggy, of Pantry Revisited. She'll have the original recipe listed on her blog, along with some pretty pictures of that meant-to-be bundt.
I substituted dark cocoa powder for some of the flour and instead of the suggested add-ins, I took a cup of mini chocolate chips and stirred those in at the end. Perfection~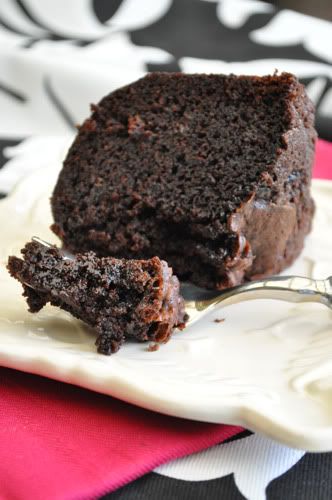 I'm sure I'll get around to the fruit-n-nut version soon, but for now, everyone's drunkenly happy with their chocolate indulgent cake. 🙂 And if you're interested in the other TWD bundts, check out the links on the 'Leave-Your-Link' post!
Chocolate-Chocolate Brown Sugar Bundt Cake (pg. 179)
Adapted from: Baking – From My Home to Yours by Dorie Greenspan