Happy Cinco de Mayo!! I'm all decked out in my turquoise & silver, complete with cowboy boots & beer koozie in hand, and tonight, C and I will head over to our good friends' house to celebrate with (according to A) "plenty of Mexican food and lots of drinks". Sounds like a good time, right? I, for one, can't wait because in my book, Mexican food (and Tex-Mex, for that matter) is a food group, all on it's own.
So to celebrate this evening, I'll be contributing these to the dessert table. Light, fluffy and full of that sweet-tart taste, they're quick to bake up and just as quick to disappear! Now, who's ready to party??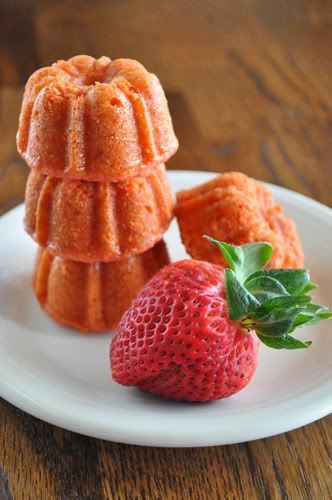 Strawberry Daiquiri Mini Bundt Cupcakes
Adapted from: There's Always a Reason to Bake!
Yields: 24 cupcakes
1 box strawberry cake mix
3 eggs
1 c frozen strawberry daiquiri mix, thawed
1/2 c fat-free sour cream
1 tsp pure vanilla extract
2 tbsp grated lime zest
Garnish:
Cool Whip Free
Grated lime zest
Whole fresh strawberries
Preheat oven to 350 degrees F. Mix together cake mix, eggs, daiquiri mix, sour cream, vanilla and lime zest, then beat until just combined. Scoop batter into mini bundt cupcake pan, filling 3/4 full. Bake for 15-18 minutes, testing cakes with a toothpick or wooden skewer. Remove from the oven and let cool in pan for 5 minutes. Then transfer mini cakes to a wire rack to cool completely.
Top cooled cupcakes with Cool Whip Free, grated lime zest, then a fresh strawberry. Keep mini bundt cupcakes in an airtight container.