Since we've had a rare cold snap in the past two days (45 degrees! – it IS May, right??), this was the perfect sweet to bake up in the kitchen. Along with the oven temp, the spicy cardamom and rich espresso warmed me right up. It's a quick loaf to put together with minimal dishes to clean… and just a short hour of baking time.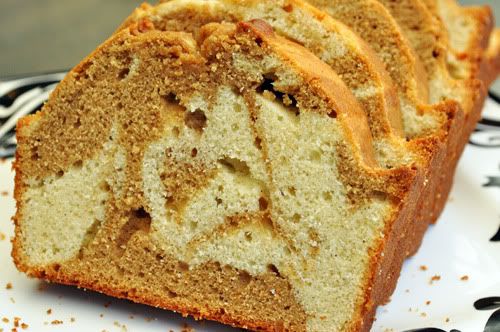 The aroma and flavor of this loaf cake reminded me of breezy and chilly November days. Yes, Summer hasn't even shown it's lovely face, yet I'm already impatiently waiting for Fall. I thoroughly enjoyed a small slice of this for breakfast with a steaming cup of Cinnamon Roll coffee… then I took the rest to work so it wouldn't be staring me in the face! 🙂
Carol from The Bake More is our hostess for the week. Check her blog for the complete recipe, along with some pretty pictures of her own marbled loaf. And for links to other TWD loaves, click over to the 'Leave-Your-Link' post!
Cardamom & Espresso Marbled Loaf Cake (pgs. 230-231)
Source: Baking – From My Home to Yours by Dorie Greenspan