I'm not a huge fan of steak. I'll eat it if served (my momma taught me to be polite), but it's not the first thing I gravitate towards when I'm looking at a menu. Being 3/8 Comanche, I should crave the stuff, but most of the time I'm just not in the mood for beef. Which is why when this recipe came up, I instantly knew who'd be having steak for dinner… Daddy and Momma G. It's times like these that it's nice to have taste-testers living next door to you.
It was literally ready in less than 20 minutes and they both agreed that it was one of the best steaks they'd tasted in a long time. R even came over to have a bite and she loved it, too. I'm no Ruth's Chris, but a comment like that can really brighten my day… obvious props to Dorie, of course, for writing the recipe! 😉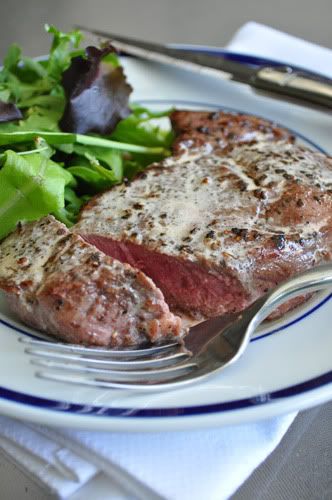 To see other pepper steaks from the French Fridays with Dorie group, check out the 'Leave-Your-Link' post. And grab a copy of the book already! We're a fun group to join!
#32 – Bistrot Paul Bert Pepper Steak (pg. 238-239)
Source: Around My French Table by Dorie Greenspan