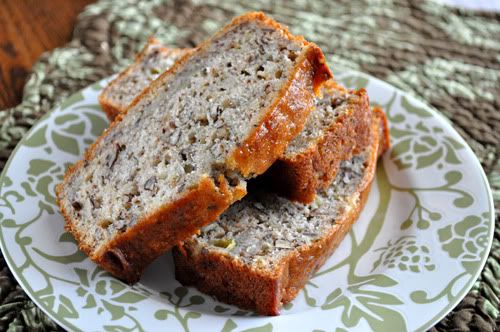 I've been a little lax lately with my TWDs and FFwDs. I'm in the process of testing cupcakes for this weekend's Cupcake Camp Dallas and truthfully, the last things I need are ice cream tarts and vanilla eclairs laying around, calling my name. 🙂
I did have a few bananas that were spotty and begging to be used, so in between a batch of angel food cuppies and spice cuppies, I made a couple of loaves of banana nut bread. I can remember my mom making this once every few weeks… it was a recipe that was handed down to her from her momma and one of her absolute favorite things to nibble on. It takes just a few minutes to put together and within an hour, you're enjoying a simple, heartfelt and comforting loaf of bread. Just the ticket for a Sunday morning breakfast!
Ingredients
2-1/4 c all-purpose flour
1-2/3 c granulated sugar
1-1/4 tsp baking soda
1-1/4 tsp baking powder
1/4 tsp ground cinnamon
1/4 tsp ground nutmeg
4 lg eggs
1/2 c vegetable oil
5 md bananas, mashed
1 tsp pure vanilla extract
2/3 c buttermilk
1 c pecans, chopped
Instructions
Combine dry ingredients. Mix eggs, oil, bananas and vanilla. Add to dry ingredients along with milk. Fold in nuts, but do not overbeat batter. Bake at 350 degrees F in two (3"x8") greased loaf pans or paper-lined muffin tins... 20 minutes for mini muffins and small muffins, 30 minutes for large muffins and 45 minutes to 1 hour for loaf pans.
Source: Momma G and my Grandmother Grace
http://mybakingheart.com/2011/04/19/banana-nut-bread/