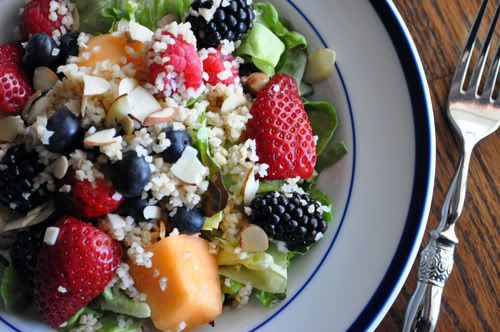 Salad for breakfast? Most definitely… especially if it's this one.
I was excited to see this recipe in the lineup for April since I've recently jumped on the quinoa bandwagon. Not only is it high in fiber and protein, but also magnesium and iron. Quadruple score! I'm not the biggest fan of dried fruit, so I subbed a large amount of fresh and then topped it all with sliced almonds. It was an amazing way to start my Wednesday & Thursday mornings and I can't wait to have another serving at lunch today! 🙂
Grab the book and join us – we're always looking for new members! Next week is a Garlicky Crumb-Coated Broccoli and I know it will be amazing!
#28 – Quinoa, Fruit and Nut Salad (pg. 138)
Source: Around My French Table by Dorie Greenspan