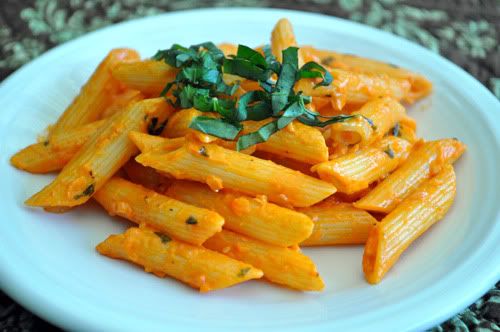 Simple, elegant and perfect for the end of a hectic work day, or even as a comforting Sunday night meal. Penne with Vodka Sauce is one of the easiest dishes to put together… aside from spaghetti, that is. The points value on this may scare you, but even when paired with a grilled chicken breast, salad, dressing and a slice of garlic bread, I stayed on point for the day. It was wonderful and just what I needed to curb my Italian cravings! Mangia!
Penne with Vodka Sauce
Adapted from: Weight Watchers
PointsPlus™ Value: 9
Yields: 6 (1-cup) servings
1 tbsp unsalted butter
2 md shallot, minced (about 1/2 c)
2 cloves fresh garlic, minced
2 tbsp fresh parsley, minced
1/2 tsp Kosher salt
1/4 tsp black pepper, freshly ground
3 tbsp canned tomato paste
2 oz vodka
1/8 tsp Kosher salt, or to taste (for cooking pasta)
12 oz uncooked penne
1/2 c heavy whipping cream
20 leaves fresh basil, cut into ribbons (chiffonade)
Heat a large skillet over a medium-low heat. Add butter, shallots and garlic; sauté until shallots start to caramelize, about 3 to 5 minutes. Add parsley, 1/2 teaspoon of Kosher salt and pepper, stirring once or twice. Add tomato paste and mix. Cook for about 5 minutes, moving paste around pan occasionally, then add vodka. Scrape bottom of pan with a wooden spoon and cook for about 5 minutes more.
Meanwhile, bring a medium pot of salted water to a boil. Cook pasta according to package directions; drain. Add cream to tomato sauce; reduce heat to low and simmer for about 3 minutes. Add pasta to sauce and mix to coat; top with basil and season to taste with salt and pepper.