The story behind these is a sweet one. A momma would make a double batch of these bars as treats for her kiddos to take along on camping trips. The bars would be devoured within minutes of making it to the campsite and sometimes the pan made it out of the car with only a few crumbs left behind.
I haven't tried them as bars just yet, but believe me, it won't be long before I do. As drop cookies, they're some of the best I've made. Ever. I took them to a cookout at our friends' house over the weekend… let's just say that I knew they were good when L ate three of them before dinner and two more for "dessert".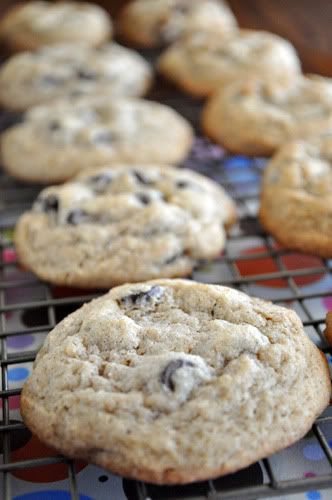 Ingredients
2-1/4 c all-purpose flour
2 tsp ground cinnamon
1 tsp baking soda
1/2 tsp Kosher salt
1/2 tsp ground cloves
1/2 tsp ground nutmeg
3/4 c unsalted butter, softened
3/4 c light brown sugar, packed
3/4 c granulated sugar
1 tsp pure vanilla extract
2 lg eggs
1 c semi-sweet chocolate chips
Instructions
Heat oven to 375 degrees F. Whisk together flour, cinnamon, baking soda, salt, cloves and nutmeg in a medium-size bowl. Cream the butter in a large bowl with an electric mixer set on medium speed; beat in the brown and granulated sugars and vanilla until creamy.
Add the eggs to the butter mixture, beating until combined. Gradually add the flour mixture, beating until smooth. Stir in the chocolate chips. Drop the batter by rounded tablespoonfuls onto a baking sheet and bake for approximately 10 to 13 minutes.
The spices give these a golden brown look even when they're not fully cooked, so to see if they're done, lightly touch the center of a cookie - it should have a little give. Remember, cookies continue to bake on the sheet after they're removed from the oven; for chewier cookies, remove these from the sheet immediately, or leave them to cool on the sheet for crispier cookies.
Adapted from: The Farm Chicks in the Kitchen
Notes
http://mybakingheart.com/2011/03/23/spicy-camp-cookies/