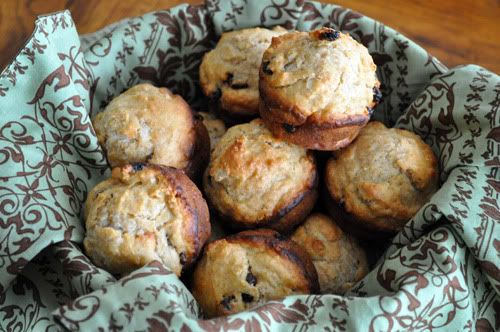 Happy first day of Spring, my lovely readers! It's a beautiful day in Texas – warm, sunny and breezy, absolutely perfect and one that I know we've all been waiting for.
It's been a while since I've participated in Sweet Melissa Sundays (with the exception of my last pick, the Sacher Torte). There's always something else to bake, somewhere else to be, something else I have to do… but I couldn't pass this week up. I love Soda Bread, especially since it's always a quick and easy recipe. Momma G was cooking up a big batch of Irish Beef Stew for St. Patrick's Day last Thursday, so I knew these would be the perfect addition to dinner. Since I've made the traditional loaf many times before, I wanted to do something a little different. I'd seen these on Skinnytaste.com and loved, loved, loved them, so naturally, I had to make them! They were just the right size and so perfect with Mom's stew.
This week's hostess is Julie of A Little Bit of Everything – check her blog for the original recipe and to see the other SMS loaves, click over to the 'Leave-Your-Link' post!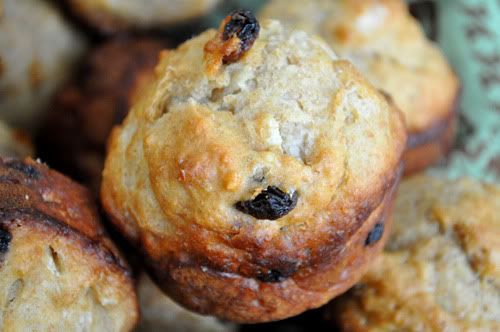 Irish Soda Bread Muffins
Adapted from: The Sweet Melissa Baking Book by Melissa Murphy
Seen on: Skinnytaste.com & Recipegirl.com
PointsPlus™ Value: 4
Yields: 12 muffins (1 per serving)
1 c whole wheat flour
1 c all-purpose flour
1/2 tsp baking powder
1/2 tsp baking soda
1/2 tsp salt
3 tbsp butter
3 tbsp agave nectar
1 c low fat 1% buttermilk
1 lg egg, beaten
3 oz raisins (about 2/3 c)
Butter flavor cooking spray
Preheat oven to 375 degrees F. Spray muffin tin with butter flavor cooking spray.
In a large bowl combine all dry ingredients (flour,baking powder, baking soda, and salt). Using a pastry cutter or two knives, cut in butter until mixture resembles coarse crumbs. In a small bowl, stir together buttermilk, agave and egg until blended. Add buttermilk mixture to dry ingredients and stir to combine. Stir in raisins.
Spoon batter into prepared pan. Bake 20 to 25 minutes, or until toothpick inserted in center of one muffin comes out clean.
Remove tin and cool on a wire rack for about 5 minutes before removing muffins from tin; finish cooling on rack. Serve warm or cool completely and store muffins in an airtight container or ziplock bags at room temperature.