Making this is like making a pie crust. The processor is pulled out and the dry ingredients pulsed together. Bits of butter are cut up and added in. Then a few tablespoons of cold water are drizzled on top and the dough is patted together to be wrapped in plastic and chilled in the fridge for an hour or two.
I normally hate making pie crusts. Now don't get me wrong… I love, love, love eating them, but the fairly long process of putting one together seems like a lot of work. I do it, all the while hating the thought of cutting up all those tiny bits of butter (and cleaning up the food processor), but in the end, I definitely enjoy the result. Especially when it's Dorie's Sweet Tart Dough. And this cookie? It's just as perfect. Great news, too… when broken up into 25 pieces, it's only 2 Weight Watchers PointsPlus™ per piece! 🙂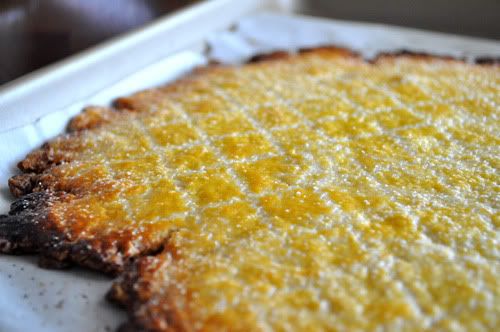 Instead of hatching the dough with a fork like Dorie suggests, I took an antique crimper and rolled a diamond pattern. Easier and quicker in my book! I did have issues with the baking time, though. My cookie wasn't in the oven 15 minutes before it started to turn a very dark brown. I had to take it out around 18… otherwise I would've had a charred frisbee on my hands. Was I the only one?? Click over to the FFwD 'Leave-Your-Link' page to find out!
#26 – Salted Butter Break-Ups (pgs. 400-401)
Source: Around My French Table by Dorie Greenspan