If you haven't noticed, it's all about the Chocolate Guinness/Stout Cup/Cake in the food blog world this week. A little overkill, but being that it's St. Patrick's Day, I can understand. And I've never been one to copy off of my neighbor, but since these were requested from me, I'm becoming one of the masses. Just this once, though. 🙂
It's time for our annual St. Patty's Day spread here at work, so to balance out the Irish Beef Stew, Soda Bread, Colcannon and Champ (yes, we're having both), I brought these cute little pots of gold as our dessert. They're light, fluffy and the crowns on these are mile-high. As for taste, they're out-of-this-world (I tested one for breakfast). Whether or not we'll get any work done after lunch… I'll have to let you know. 😉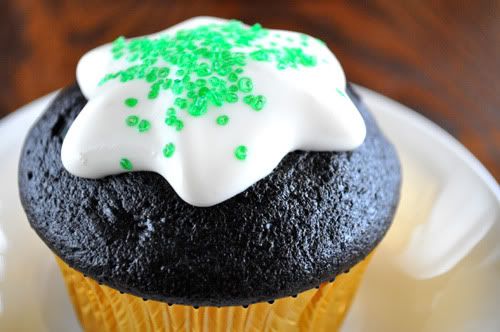 Dark Chocolate Guinness Cupcakes
Ingredients
For the cupcakes:

12 oz Guinness® stout
1/2 c milk
1/2 c vegetable oil
1 tbsp pure vanilla extract
3 lg eggs
3/4 c sour cream
3/4 c dark cocoa powder
1 c Splenda for Baking
2-1/2 c all-purpose flour
1-1/2 tsp baking soda

For the Frosting:

8 oz cream cheese, at room temperature
1/3 c heavy cream
1 lb confectioners' sugar
Instructions
Preheat oven to 350 degrees F. In a large mixing bowl, combine the Guinness®, milk, vegetable oil, and vanilla. Beat in the eggs one at a time, then mix in the sour cream.
In another large mixing bowl, whisk together the cocoa, sugar, flour, and baking soda. Gradually mix the dry ingredients into the wet Guinness® mixture.
Line two muffin tins with 24 liners and divide the batter among the muffin tins. Bake for 25 minutes until risen and set in the middle but still soft and tender. Cool before turning out of the tins.
While the cupcakes are cooling, beat the cream cheese in a bowl until light and fluffy. Gradually beat in the heavy cream, then slowly mix in the confectioners' sugar. Pipe each cupcake with frosting and top with green sprinkles.
Adapted from: Dave Lieberman
http://mybakingheart.com/2011/03/17/dark-chocolate-guinness-cupcakes/