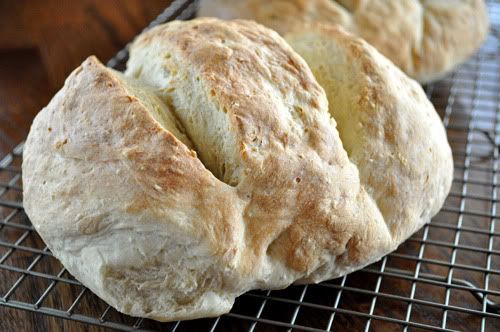 To me, there's nothing more gorgeous than a golden, fragrant, hot-out-of-the-oven loaf of bread… especially when it's one that I've put so much time and love into. Goal #1 on my '30 Before 30′ list is now complete and I couldn't be more proud. Well, I'm sure I'll be more proud once I finish the entire list, but for now, I'm pretty excited.
Momma G has a bread maker that she used several times a week when I was younger. I had some pretty amazing meals consisting of that delicious bread – toasted for breakfast, sandwiched together with turkey for lunch and garlic butter-coated for dinner. I'm 99.9% sure that this is what led to my bread addiction. It's been a few years since she's pulled the machine out and put it to use, but I can still taste that bread to this day. So, I was a little surprised (pleasantly, mind you) when I sunk my teeth into a slice of this warm Sourdough and tasted that 'bread maker' tang. It wasn't overly sour, which I like, but it had just a little kick that left me wanting three or four (or even five) more slices. I've got the starter in my fridge just waiting to be used again, so you can definitely expect another Sourdough recipe soon!
Rustic Sourdough Bread
Adapted from: King Arthur Flour
1 c "fed" sourdough starter
1-1/2 c lukewarm water
2 tsp instant yeast
1 tbsp sugar
2-1/2 tsp salt
5 c unbleached all-purpose flour
Combine all of the ingredients, kneading to form a smooth dough. Allow the dough to rise, in a covered bowl, until it's doubled in size, about 90 minutes. Gently divide the dough in half; it'll deflate somewhat.
Gently shape the dough into two oval loaves; or, for longer loaves, two 10″ to 11″ logs. Place the loaves on a lightly greased or parchment-lined baking sheet. Cover and let rise until very puffy, about 1 hour. Towards the end of the rising time, preheat the oven to 425 degrees F. Spray the loaves with lukewarm water.
Make two fairly deep diagonal slashes in each; a serrated bread knife, wielded firmly, works well here. Bake the bread for 25 to 30 minutes, until it's a very deep golden brown. Remove it from the oven, and cool on a rack.