And my '30 Before 30′ journey has begun! Last Wednesday, I posted two photos of this starter working it's fermenting magic… and now, it's day 6 and I've had the chance to test it out! Tomorrow, I'll post about the gorgeous loaves of bread that I ended up with, but for now I'm giving you the recipe so you can start your own! Putting together the starter and feeding it over the past few days was so easy, I can't believe I'm just now making it (especially since Sourdough is my absolute, all-time favorite bread). Just make sure that your jar or bowl is big enough since the starter will about double in size right after you begin adding things together!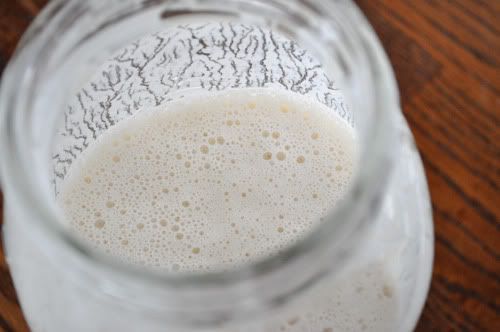 Sourdough Starter
Adapted from: King Arthur Flour
2 c warm water
1 tbsp sugar or honey (optional)
1 packet active dry yeast
2 c unbleached all-purpose flour
Pour the water into a 3- to 4-quart glass or ceramic container or bowl, then dissolve the sugar or honey and the yeast in that order. Stir in the flour gradually. Cover the jar or bowl with a clean dishcloth and place it somewhere warm. By using a dishcloth instead of plastic wrap, you'll allow any wild yeast in the area to infiltrate and begin to work with the domestic yeast which itself is beginning to develop "wild" characteristics and flavors.
The mixture will begin to bubble and brew almost immediately. Let it work anywhere from 2 to 5 days, stirring it about once a day as it will separate. The starter is ready when it develops a pleasant sour smell and looks bubbly. When the bubbling has subsided, stir your starter once more and start feeding it daily with flour and water according to the directions below. Then stir it, cover loosely with plastic wrap (allow a little breathing space), and store it on your counter top or in the refrigerator (your choice). The starter should have the consistency of pancake batter.
Your starter should be fed daily if left sitting on the counter. Every other week, if refrigerated.
Feeding Your Starter:
Counter-Stored Sourdough Starter: Daily remove one cup of starter (use this starter in a baked item, give it to a neighbor, or throw it away) and replace it with one cup of warm water (105 to 115 degrees F.) and one cup of flour. Let it sit out for a few hours, covered, to become active before using.
Refrigerated-Stored Sourdough Starter: Store it, covered, in the refrigerator until ready to use. When ready, remove it from the refrigerator and let it come to room temperature. Once at room temperature, feed it with one cup flour and one cup warm water (105 to 115 degrees F.) and let it sit out for eight hours or preferably overnight. It's now ready to use.