Extremely simple, yet so delicious. This is one of those recipes that will earn a coveted spot in your weeknight meal repertoire. It's also fancy enough for those discerning dinner guests. But figs and raisins in pasta? I think (no, wait, I know) that C, my parents, or anyone else that I'd be inviting to my table wouldn't have anything to do with that. And frankly, I wouldn't either. So I omitted them both. And to me, it was perfect. Creamy, rich and a bit nutty. This was definitely another win for Ms. Dorie.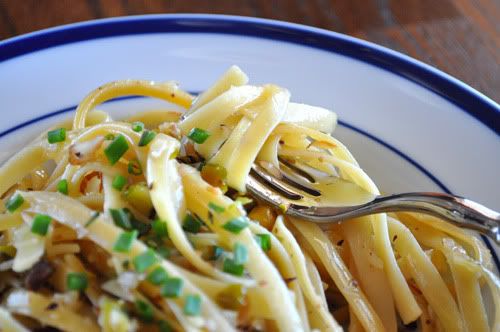 If you haven't already, make this gorgeous book a part of your collection and start cooking along with us! It's still 40% off through Amazon, so get it now! 🙂 To see all the other linguine dishes hitting the web today, check out the 'Leave-Your-Link' post on the French Fridays with Dorie site. And since Ms. Dorie has the recipe listed on her site, you're in luck… I've listed it below exactly as she intended. Bon Appétit, y'all!
~
#25 – Beggar's Linguine (pgs. 370-371)
Source: Around My French Table by Dorie Greenspan
Makes 6 to 8 starter servings or 4 main-course servings
1 (14-16 oz) box linguine
1-1/2 sticks unsalted butter
1/3 c shelled pistachios, coarsely chopped
1/3 c almonds, coarsely chopped
8 plump dried mission figs or 3 dried kadota figs, finely diced
1/4 c plump, moist raisins (golden raisins are nice here)
1/2 c grated Parmesan (more or less to taste)
Grated zest of 1/2 orange (or more to taste)
Minced chives and/or parsley leaves, for serving (optional)
Salt and freshly ground black pepper
Cook the linguine according to the package directions. When the pasta is cooked, drain it well, but don't rinse it. About 5 minutes before the pasta is ready, melt the butter over medium heat in a large high-sided skillet or casserole. (You're going to add the pasta to this pan, so make sure it's large enough.)
When the butter is melted, hot and golden, stir in the nuts, figs and raisins. Allow the butter to bubble and boil – you want it to cook to a lovely light brown, or to turn into pan beurre noisette, butter with the color and fragrance of hazelnuts – and when it's reached just the color you want, add the pasta to the pan. Stir the pasta around in the butter to coat it evenly and to tangle it up with the bits of fruit and nuts.
Turn the pasta into a warm serving bowl, add the grated cheese and season with salt and a generous amount of black pepper. Toss and turn the pasta to incorporate the cheese, then dust the top of the mound with orange zest and chives and/or parsley, if you're using them.
Serving:
Bring the pasta to the table and, just before you're ready to dish out the first serving, give it one more toss to mix in the zest and herbs. The pasta is so good – and so surprising – that it should be served on its own as its own course, whether first, middle (as the Italians would have it) or main.
Storing:
This is not a dish that can be reheated and it's not a pasta that can be served cold, so eat up!