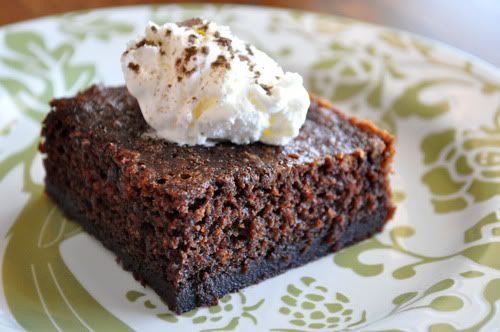 A new month and a new challenge! It's the second edition of the Idaho® Potato "Recipe of the Month" Photo Contest and this time, it's gooey, fudgy, chocolaty cake! Adding in potato flakes is a little out of the ordinary, but it makes for an intensely moist cake that will keep for days. This is a great little dessert that's perfect for meetings, pot-lucks, showers, bake sales, or when you're short on time but want a decadent sweet after dinner! Just look at that fudgy bottom layer…
This recipe was created by Diane Neibling of Overland Park, KS and received an Honorable Mention in the IPC's 2010 Watching Waistlines and Wallets Recipe Contest.
Fudge Mocha Idaho® Potato Cake
Source: Diane Neibling of Overland Park, KS
Yield: 9 servings
1 c strong coffee or 2 tsp instant coffee granules & 1 c water
1/2 c semisweet chocolate chips
1 lg egg
3/4 c sugar
1/3 c unsweetened applesauce
1 tsp vanilla extract
1/2 c all-purpose flour
1/2 c instant Idaho® potato flakes
1/2 tsp baking soda
1/4 tsp salt
1 c fat-free whipped topping
Preheat oven to 350 degrees F. Spray an 8-inch by 8-inch nonstick baking pan with cooking spray. Combine coffee and chocolate chips in a large microwave-safe bowl, cover and cook on high for 1 minute, stir, microwave an additional 15-30 seconds or until chocolate is melted. Place in refrigerator 10 minutes to cool slightly. Remove coffee mixture from refrigerator.
Using an electric mixer on low speed, beat the egg into the mixture. Beat in the sugar until well blended. Add applesauce and vanilla, and beat until just blended. Gradually add the remaining ingredients and beat until just blended. Pour batter into prepared pan. Bake 33-35 minutes or until wooden pick inserted comes out clean. Cool 10 minutes before inverting onto a cooling rack. Cool completely. Serve with whipped topping (about 2 tablespoons per slice).