This February 14th is definitely better than last year's, now that C & I are living in the same city (and not 1,400 miles apart!). We'll actually see one another today… even if it is just for an hour or two. And since I won't have to mail him a V-Day present, I figured I'd make him one that he could enjoy right away.
I've always wanted to make Linzer cookies, especially ones that were heart-shaped. Simple and really fun to put together, these cookie sandwiches are a perfect little present for that special someone. They're filled with love and taste just as sweet. So to all of my lovely readers, Happy Valentine's Day – I hope it's filled with many hugs, kisses and lots of love!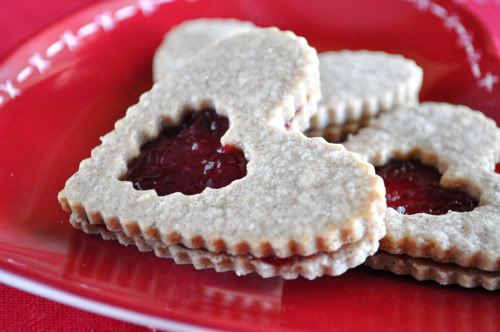 Ingredients
3/4 c almond flour
1-1/2 c all-purpose flour
1-1/2 tsp ground cinnamon
1/4 tsp salt
Scant 1/4 tsp ground cloves
1 lg egg
2 tsp water
8 tbsp unsalted butter, at room temperature
1/2 c sugar
1/2 c raspberry preserves
Confectioner's sugar, for dusting
Instructions
Whisk together the ground nuts, flour, cinnamon, salt and cloves. Using a fork, stir the egg and water together in a small bowl.
Working with a stand mixer, preferably fitted with a paddle attachment, or with a hand mixer in a large bowl, beat the butter and sugar together at medium speed until smooth, about 3 minutes, scraping down the bowl as needed. Add the egg mixture and beat for 1 minute more. Reduce the mixer speed to low and add the dry ingredients, mixing only until they disappear into the dough. Don't work the dough much once the flour is incorporated. If the dough comes together but some dry crumbs remain in the bottom of the bowl, stop the mixer and finish blending the ingredients with a rubber spatula or your hands.
Divide the dough in half. Working with one half at a time, put the dough between two large sheets of wax paper or plastic wrap. Using your hands, flatten the dough into a disk, then grab a rolling pin and roll the dough, turning it over frequently and lifting the paper so it doesn't cut into it, until it is about 1/4 inch thick. Leave the dough in the paper, and repeat with the second piece of dough. Transfer the wrapped dough to a baking sheet or cutting board (to keep it flat) and refrigerate or freeze it until it is very firm, about 2 hours in the refrigerator and about 45 minutes in the freezer.
Center a rack in the oven and preheat the oven to 375 degrees F. Line two baking sheets with parchment or silicone baking mats.
Peel off the top sheet of wax paper from one piece of dough and, using a small heart-shaped cookie cutter, cut out as many cookies as you can. If you want to have a peek-a-boo cutout, use a smaller heart-shaped cookie cutter to cut a small heart from the centers of half the cookies. Transfer the hearts to the baking sheets, leaving a little space between the cookies. Set the scraps aside—you'll combine them with the scraps from the second disk and roll, cut and bake more cookies.
Bake the cookies one sheet at a time for 11 to 13 minutes, or until the cookies are lightly golden, dry and just firm to the touch. Transfer the cookies to a rack to cool to room temperature.
Repeat with the second disk of dough. Gather the scraps together, press them into a disk, roll them between sheets of wax paper or plastic wrap and refrigerate until firm, then cut and bake.
Once cookies are cool, place a dollop of raspberry preserves on the the solid cookies, then sandwich together with the cookies that feature a cut-out in the center. Dust each sandwich cookie with a bit of confectioner's sugar, if desired.
Storing:
The cookies will keep in a covered tin—use wax paper to separate the layers—for about 3 days. They can be frozen for up to 2 months.
Adapted from: Baking - From My Home to Yours by Dorie Greenspan
http://mybakingheart.com/2011/02/14/valentine-linzer-hearts/