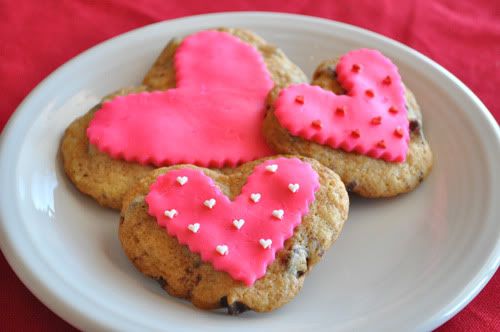 With Valentine's Day quickly approaching, Nestlé® is sponsoring a sweet little photo contest via their Facebook Fan Page. And entering is super easy with only three small steps: Bake & Decorate, Shoot & Submit, then Vote!
Hearts have always been special to me, so when I heard about this contest, I jumped on it! There's nothing better than a chocolate chip cookie, right? Especially a pretty pink one. So, I'd love it if you could help me out and cast a vote my way! Pop over to the Nestlé® Facebook Fan Page on February 16th and vote my little sweethearts as your favorite. Nestlé® will choose the 'Top 10', then users will vote again from among the finalists. Happy Valentine's Day and thank you from the bottom of my heart! 😉
Nestlé® Sweethearts
Source: Nestlé® Toll House®
Yields: 4 dozen Cookie Bars or 5 dozen Slice & Bake Cookies
2-1/4 c all-purpose flour
1 tsp baking soda
1 tsp salt
1 c butter, softened
3/4 c granulated sugar
3/4 c packed brown sugar
1 tsp vanilla extract
2 lg eggs
1 (12-oz pkg) Nestle® Toll House® Semi-Sweet Chocolate Morsels
1 c chopped nuts
Preheat oven to 375 degrees F. Combine flour, baking soda and salt in small bowl. Beat butter, granulated sugar, brown sugar and vanilla extract in large mixer bowl until creamy. Add eggs, one at a time, beating well after each addition. Gradually beat in flour mixture. Stir in morsels and nuts. Drop by rounded tablespoon onto ungreased baking sheets. Bake for 9 to 11 minutes or until golden brown. Cool on baking sheets for 2 minutes; remove to wire racks to cool completely.
Sweetheart Cookie Variation:
Prepare dough as above. Divide in half and shape into discs; wrap each in plastic wrap. Refrigerate for 1 hour or until firm. Preheat oven to 375 degrees F. Between two pieces of plastic wrap, roll discs out (as best you can) to about 1/4″ to 1/2″ thick. Using a heart cookie cutter, cut out shapes and place on a parchment paper-lined baking sheet (about 6 cookies to a tray, 2″ between each cookie). Bake for 8 to 10 minutes or until golden brown. Cool on baking sheets for 2 minutes; remove to wire racks to cool completely.
Roll fondant into a ball, kneading until it's soft and pliable. Using a toothpick, add dots of icing color in several spots. Knead color into your fondant ball. To keep your hands stain-free, use food-safe gloves. Continue kneading until color is evenly blended; add a little more color until desired tint is reached. Place the fondant in between two sheets of wax paper and roll out until it's about 1/4″ thick. Take heart cookie cutters and cut out shapes. When cookies are cool, apply 2-3 small blobs of frosting to the cookie and apply the cut-out fondant to the top. Apply tiny drops of food gel in desired spots on the fondant, then add a sprinkle or non-pareil of your choice to each drop of gel.