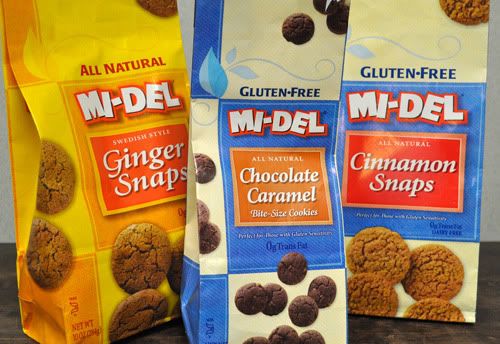 It's been 3-1/2 weeks since I started Weight Watchers and I've done quite well, so far (7 lbs. lost – woot!!). I'm focused and consistent when it comes to tracking my points and I rarely dip into my extra weekly allowance. And while I love Jell-O's Sugar-Free Dark Chocolate Pudding (only 2 points!) as a dessert or afternoon treat, I'm starting to crave variety. So, when MI-DEL Cookies contacted me and asked if I'd like to give them a try, I immediately went to calculate the points I could spend on a serving.
Color me extremely happy that in most of their varieties, 5 cookies are only 3 points! And the mini cookies?? You get 23 of 'em! It boggles my mind. 🙂 The All-Natural Ginger Snaps are spicy and provide that big crunch that reminds me of the ones my grandfather loved so much, and the Bite-Size Chocolate Caramel ones are sweet (and adorable), but the Gluten-Free Cinnamon Snaps are my favorite out of these three. They're the perfect treat when you're looking to kick that hankering for sweets right in the rear! And guess what? MI-DEL is generously giving away ONE free product each to THREE of my fabulous readers!
So how do you enter? By completing any (or all!) of the items below. Each one counts as a chance to win, and if you're already a fan on Facebook or you already follow me on Twitter, that counts too! Just make sure to comment for each item!
1. Head over to MI-DEL's product page and let me know which product you'd try if you won.
2. Follow @MIDELCookies and @hornedfroggy on Twitter and tweet the following statement, then come back to comment with a link to your tweet.
"Want to win free cookies from @MIDELCookies and @hornedfroggy?? Then enter now!! http://bit.ly/e3W6QO"
3. Become a fan of MI-DEL Cookies on Facebook.
4. Become a fan of My Baking Heart on Facebook.
5. Subscribe to My Baking Heart's RSS Feed.
Contest is open to U.S. residents only until Monday, 2/14/11 at 11:59 pm CST. One winner will be randomly chosen by random.org and announced by Tuesday, February 15.
Disclosure: This giveaway is courtesy of MI-DEL Cookies. The views and opinions expressed on My Baking Heart are my own and based upon my personal experience with MI-DEL Cookies. The products were provided to me free of charge, but I was not monetarily compensated for a positive review or giveaway.